Merkel to seek fourth term as German chancellor
Monday, November 21st 2016 - 17:39 UTC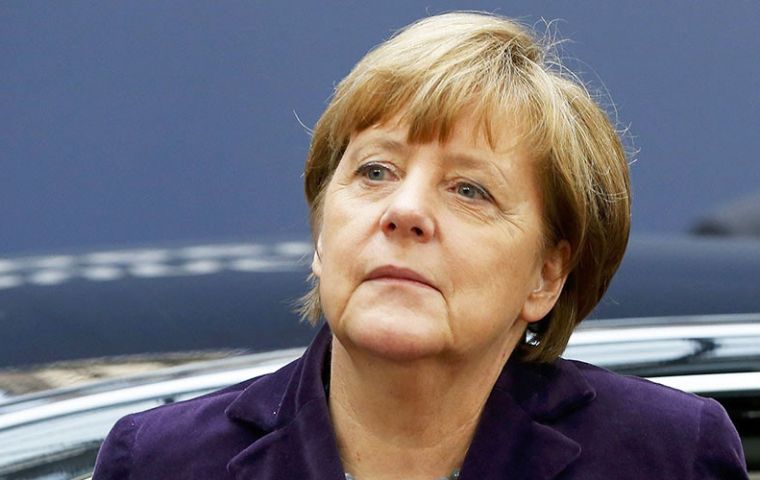 Angela Merkel announced on Sunday she will run for a fourth term as German chancellor in next year's election, despite growing rejection to her open-door migrant policy
German Chancellor Angela Merkel decided to run for a fourth term in office in order to offer some stability in what she termed "exceptionally difficult" and uncertain times following Britain's vote to leave the European Union and the election of Donald Trump as the next U.S. president. The announcement ends all speculation on whether she would or would not run in the September election. "I thought about this for an endlessly long time," the 62-year old Merkel told a news conference hosted by the Christian Democrat (CDU) party.
Merkel, who if reelected, plans to stay in office for a full four-year term or for "as long as my health allows it," outlined her next steps. First, she will seek re-election as chairwoman of her party and will then contest next year's federal election. She is defending her position as Europe's pre-eminent leader amid unprecedented political uncertainty.
The European Union faces "great tensions." The impact of the U.S. election and questions over western ties with Russia add to "a global situation that, to put it lightly, has to re-orient itself." The result is that she'll be running in what are "exceptionally difficult and, one can also say uncertain times."
Germany has no limit on the number of terms a chancellor can serve. Merkel could end up matching the 16 years in office of her former mentor, Helmut Kohl. It was Merkel herself who broke with Kohl and told her party in 1999, in the midst of a funding scandal, that it should move on without him. Kohl was in office at the time of the German reunification.
Konrad Adenauer also from the CDU was a four-time Chancellor in the then newly-founded West Germany, but he was ultimately forced to resign over a scandal. He served from 15 September 1949 to 16 October 1963. At the end of his tenure he was 87.
Merkel's decision last year to open Germany's borders to around 900,000 migrants, mostly from war zones in the Middle East, angered many voters at home and dented her ratings. Her party has slumped in regional elections in the last year while support for the anti-immigrant Alternative for Germany (AfD) has swelled.
In September, after a heavy defeat for the CDU in a Berlin state election, a humbled Merkel surprised the country by saying she wished she could turn the clock back on the migrant crisis, though she stopped short of saying her policy was a mistake.
An poll on Sunday put Merkel's conservative bloc down one point at 33 percent, but still nine points ahead of her nearest rivals, the Social Democrats (SPD), with whom she shares power. In a system where coalition governments are the norm, many pollsters see another 'grand coalition' as the most likely option after the election, although the rise of the AfD makes coalition arithmetic more complicated.
A Protestant woman in a mainly Catholic and male-dominated party, at least when she became its leader in 2000, Merkel never built up a regional power base but over the years she has sidelined her main male rivals and has no obvious successor. She still requires the official backing of her Christian Social Union (CSU) allies in Bavaria, who have fiercely criticised her open-door migrant policy. CSU head Horst Seehofer welcomed her decision on Sunday.