Nobody is going to invest in Argentina while fearing populism could be round the corner
Monday, November 21st 2016 - 11:22 UTC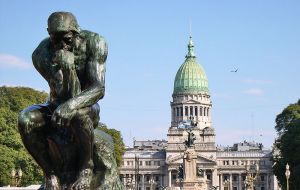 Even admitting that the Argentine economy will expand 3% next year, nobody wants to invest in the country because they are not sure that populism won't be back in a couple of years, according to economist and former central bank chair Javier Gonzalez Fraga.
"I've been back recently from overseas and met people from financial circles and potential investors in Argentina, and nine out of ten questions refer to politics, in effect nobody is looking to invest in the country because they don't know if populism will be back in a couple of years", pointed out the banker who also referred to what he described as president Mauricio Macri's stigma.
"Macri's stigma is that he's the fifth non Peronist president in seventy years and the previous four did not end their mandate, so then it is obvious that the political question is paramount, and next year in the midterm election the president must perform successfully otherwise the potential of the political change we are undergoing will simply collapse", explained Gonzalez Fraga, who nevertheless believes the Argentine economy will expand 3% next year.
"But recovery is going to be quite uneven with the farming sector and public works expanding strongly but not the textile industry for example. The Macri administration had adopted a gradual approach, where nobody is entirely satisfied but with a clear political target", next year's midterm election when his administration must increase its congressional support both in the Lower House and the Senate.
October next year the Argentine congress renews half of the Deputies chamber and a third of Senators. President Macri has managed to rule so far based on a fragile coalition, mostly on specific issues, and because Argentina's hegemonic political movement Peronism, remains in disarray following last year's electoral defeat.
Gonzalez Fraga believes that the government of Macri will be reaching the election "with not very good marks in economic issues, because of the modest recovery, but the election will not only refer to the economy but also to dialogue, combating corruption, political reform and the capacity of the government to address the issues openly and with the truth", in contrast to the previous administrations.
Further commenting on next year's economic expansion in the range of 3%, although uneven, Gonzalez Fraga anticipated that those reacting positively won't be seen in the cities or urban areas, since these will be farming and public works, but manufacturing such as those of domestic massive consumption will continue having problems.
Finally the economist commenting more specifically on the anti inflation policies implemented by the Argentine Central bank said he does share the approach, which is based exclusively in monetary restriction. "This could have been understandable in May, June, even July but interest rate should be closer to 20%", instead of the current 25.75% concluded the economist and banker.