Peña Nieto says Mexico willing to discuss NAFTA with Trump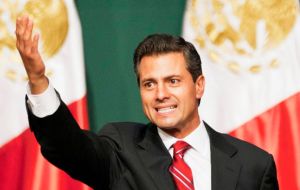 Mexican President Enrique Peña Nieto is well aware of his country's need to take a new approach at bilateral relations with the United States under the coming Republican presidency of Donald Trump. "We're at the stage of prioritizing dialogue as the path through which we may able to establish a new agenda for bilateral relations," Peña Nieto said in Lima at the Asia-Pacific Economic Cooperation (APEC) summit.
"More than talking about renegotiating Nafta, it's modernizing Nafta; let's modernize Nafta so it becomes a more powerful, modern vehicle," he added. He went on to explain that for every dollar that Mexico exports, North American materials account for 40 cents. "Globalization generates more benefits than harm," he stressed.
The bill to establish the trade deal with Mexico and Canada was approved by the US Senate in 1993 in a bipartisan vote, and signed by then-President Bill Clinton. It went into effect in 1994. Trump frequently criticized Nafta during the election, describing it as the worst deal ever and blaming it for US job losses. The Mexican peso dropped as much as 12 percent to record levels following Trump's election. Trump said during the campaign he will seek to renegotiate or scrap Nafta, boost tariffs, and build a wall along that US-Mexico border that Mexico would be forced to pay for.
In the meantime, with or without a wall, Mexican airline Interjet opened its new Mexico City-Chicago route offering travelers two daily frequencies, adding nine destinations in the United States and 18 routes between both countries. Interjet serves 37 domestic destinations and 16 abroad. In the United States it flies to Chicago, Dallas/Fort Worth, Houston, Las Vegas, Los Angeles, Miami, New York, Orlando/Sanford and San Antonio.