Sarkozy retires from politics after losing rightwing primary elections
Monday, November 21st 2016 - 11:51 UTC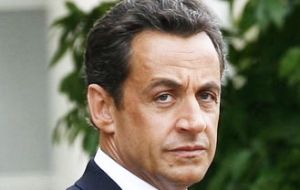 "It is time for me to approach a life with more private passion and less public passion," he said as he announced he would endorse his former prime minister, François Fillon, in the second round of voting next Sunday against Alain Juppé, also a former Prime Minister under Jacques Chirac.

Former French President Nicolas Sarkozy on Sunday announced his withdrawal from political life after acknowledging his defeat in the first round of the primary elections that put an end to his plans to regain power in 2017.

Sarkozy, 61, who led a strong right-wing campaign, posing as a candidate for the silent majority against the elites, called his supporters to never take the extreme path in reference to the far right party Front National (FN). The former head of state (2007-2012) also said he has "a lot of respect for Alain Juppé, but Francois Fillon's political choices are closer to mine," in reference to the Liberal economic and conservative agenda on the social issues of his former head of government.

"Good luck to France, good luck to you my dear compatriots, be sure that French I am, French I stay and that all that touches France, will always touch me personally," he explained. "I am like that, we do not change, I have no bitterness, no sadness, and I wish the best for my country for you my dear compatriots, and for him who will have to lead this country that I love so much."

Sarkozy's right-wing views and position and his fighting style, judged feverish by his detractors, cost him the 2012 presidential campaign against the Socialist François Hollande, for which he was seeking a political revenge that will not happen.