Visitors from Mercosur to benefit from faster entry to UK as Registered Traveler Service is expanded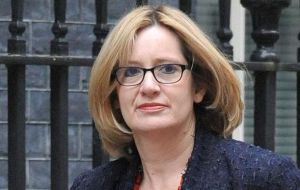 Business travelers and frequent visitors from a host of countries, including Mercosur founding members, will be able to benefit from faster entry to the United Kingdom as the Government's Registered Traveler Service is expanded. From this Monday (21 November), frequent travelers to the UK from 16 new countries will be eligible to apply for membership of the scheme, which brings the potential for improved trade and tourism links.
Membership will now be open to passengers from Argentina, Belize, Brazil, Brunei, Chile, Costa Rica, El Salvador, Guatemala, Honduras, Israel, Malaysia, Mexico, Nicaragua, Panama, Paraguay and Uruguay.
Visitors from just six of the countries, Argentina, Brazil, Chile, Israel, Malaysia and Mexico, spent close to £1bn in the UK last year, an increase of almost 30% on the previous year.
The Prime Minister announced earlier this month that the service will also be offered to certain categories of traveler from India in the future.
Home Secretary, Amber Rudd said that by opening the Registered Traveler Service to even more members "we are sending a clear message to the world that the UK is open for business. Last year, visitors from the newly-eligible nations spent close to £1bn in the UK and trade with them is worth billions to the UK's economy every year.
"Registered Traveller is one of the many ways this government is making it easier for businesses across the world to do business with the UK and I look forward to watching the service grow in the future".
International Trade Secretary, Liam Fox said he was pleased to see the Registered Traveler scheme expanding to include these key markets.
"Latin America offers fantastic opportunities for British companies and many have already had success in the region, with 58 of our FTSE 100 firms doing business there.
"For UK companies looking to build a global brand, as well as international businesses keen to invest in the UK's thriving marketplace, making contacts and forging new relationships is essential. So it's vital we make business travel into the UK as smooth as possible".
Registered Traveller, which is already open to passport holders from Australia, Canada, Hong Kong, Japan, New Zealand, Singapore, South Korea, Taiwan and the US, currently has more than 67,000 members and offers faster entry through the UK border.
The service allows approved members, who have undergone advanced security checks, faster entry at the UK border through access to the ePassport gates (if a holder of an ePassport) or the UK/EU passport lane.
To be eligible to apply, passengers must hold an eligible passport and have a visa/entry clearance or have visited the UK at least four times in the past two years.
The Registered Traveler Service went fully live on 8 April 2015 for applicants aged 18 and over, from Australia, Canada, Japan, New Zealand and the United States.