Merciless Pacific "ring of fire" hits Japan with a massive quake and tsunami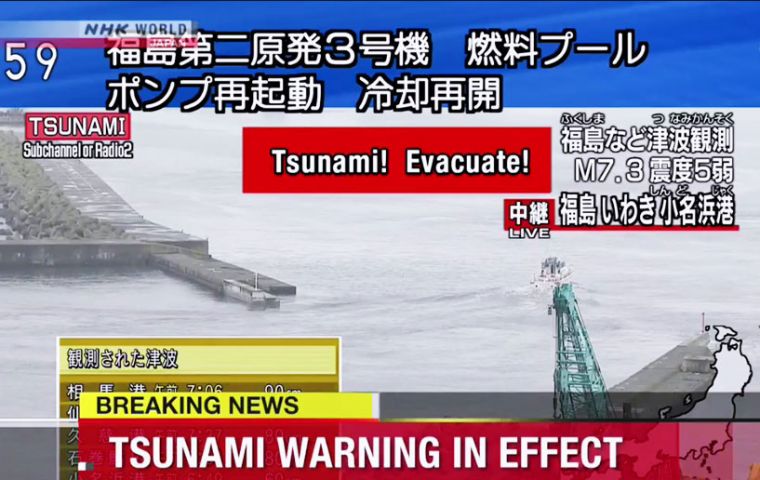 Japan's east coast, near Fukushima - the very site that witnessed the devastating 2011 earthquake, followed by a tsunami that claimed closed to 19,000 lives - was jostled by yet another massive quake on Tuesday morning. The U.S. Geological Survey has measured the earthquake at magnitude 6.9, while Japan's Meteorological Agency placed the earthquake at magnitude 7.3 and said it occurred at 6 am local time and was measured at a depth of 6.2 miles.
U.S.G.S said that the quake moved along a lateral slip, explaining that "quakes along faults that move laterally don't create the vertical movement associated with large tsunamis."
Analysts have however warned that shallow quakes generally cause more destruction as they are close to the surface.
Authorities said that tsunamis with waves of up to ten feet (three meters) were "expected to arrive imminently" in the region and have ordered immediate evacuations in the Fukushima Prefecture.
Japan's national broadcaster, NHK said that a relatively small three meter tsunami was expected at any moment. The report warned, "Don't stop. Don't try to go back. Please evacuate right now."
The tsunami warning extended to many other areas in Japan's Pacific coast, including Miyagi and Ibaraki prefectures and people were advised to move to higher ground instantly. The Tokyo Electric Company was quoted as saying that there were no immediate reports of "irregularities" at the Fukushima plant.
The Fukushima prefecture houses the Fukushima Daiichi Nuclear Power Station that suffered meltdowns in three of its six reactors in 2011, when a magnitude 9 earthquake struck northeastern Japan, claiming close to 19,000 lives.
Meanwhile, the Tohoku Electric Power Co. said there was no damage to its Onagawa nuclear plant.
In September, Japan's northernmost main island, the Okinawa Islands were struck by two earthquakes, measuring 5.5 magnitude and 5.7 magnitudes respectively.
Then in October, the Meteorological Agency of Japan had said that Mount Aso, the largest active volcano in southwest Japan and one of the few most active volcanoes in the world had erupted after reportedly being inactive since January 1980.
Japan, that sits along the Pacific "Ring of Fire," is said to witness most of the world's earthquakes and volcanic eruptions. The region accounts for about 20% of the world's earthquakes of magnitude 6 or higher also experiences several volcanoes.