Santos: "I have no metastases, no tumor"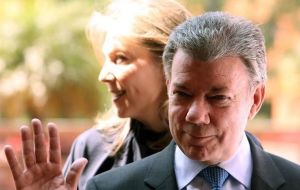 The President of Colombia made the announcement Monday following an urgent trip to the Johns Hopkins Hospital in Maryland, US, on his doctors' advice last week due to disturbing test results that would indicate a relapse of his prostate cancer which was removed surgically in 2011.
"The tests performed at the Santa Fe Foundation and the additional examination at Johns Hopkins Hospital in the United States show that I have no metastases, no tumor," Santos explained in Bogota. "This treatment does not affect at all my daily activity ... It's very good news and we are very happy, the family is very happy," he added.
For his part, the medical director of the Santa Fe Foundation said that "President Juan Manuel Santos is in good health and can continue to serve as head of state for Colombians."
Santos went into further details: "What doctors found is a minimal backwardness of what I had in the past and why I was prescribed a drug treatment and a single session of radiation therapy that seeks to prevent the side effects of the medicine."