Argentina and UK to work jointly in scientific research and exchange of experts
Wednesday, November 23rd 2016 - 16:39 UTC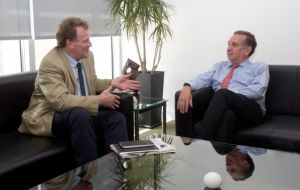 Argentina and the United Kingdom will sign this Wednesday an accord by which the two countries scientific societies will be working jointly in research projects and promoting an active exchange of scientists, as part of the recent joint statement signed last September, revealed Science and Technology minister José Lino Barañao currently in London.

"We're proposing the names of some world known Argentine researchers as members of the Royal Society", said Barañao during a meeting with scientists and ambassador Carlos Sersale di Cerisano, at the Argentine embassy. "Our purpose is to establish a close working relation between the 350/year old Royal Society and our CONICET".

Barañao also met with Science minister Jo Johnson in anticipation of the cooperation, research and innovation accords to be signed on Wednesday.

Another visit was to the GlaxoSmithKline laboratory which recently associated with Google for the production of bio-electronic medicines and has already invested US$ 5 million in research projects in Argentina with apparently very good results. Glaxo also helped to link the Science and Technology ministry with the Crick biomedical institute, recently opened, and Barañao was received by its director Paul Nurse.

"This is a very important area for Argentina since we have made great advances in bio-medicine and this interaction should help to further advance the level of scientific research in Argentina with close links with the UK", said Barañao.

"More precisely we have with the University of Edinburgh an agreement of bio-ethics on stem cells, with Oxford university on nanotechnology materials and now we are looking to advance in other areas of research", said the Argentine minister.

Barañao also had the opportunity to visit the genetics research Wellcome Trust Sanger institute, and agreed to work jointly in developing genomics and bioinformatics, an incipient discipline in Argentina with "a tremendous future not only in diagnosis of diseases but also in biology basic processes". He added that it is only recently that interpretation of all the info locked into DNA and its applications in bio-economics is being researched, and "we are most interested in its development".

Another area to advance is biotechnology development in agriculture, since Europe and the UK have an adverse position to genetically modified organisms, and particularly transgenic, and "we are considering to work jointly since Argentina has a long experience in this field of biotechnology and we have the renowned Agriculture Biotechnology Committee.