Argentina's tax amnesty program "rescues" US$ 21.9bn including US$ 7.2bn in cash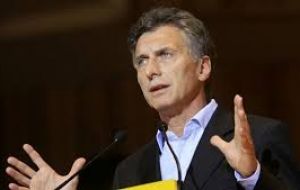 Argentines have so far declared US$21.9 billion in previously hidden assets in the country's tax amnesty program meant to help jump-start the economy, Alberto Abad, director of the AFIP tax collection agency, said on Tuesday. That included US$7.2 billion in cash deposits, Abad said.
Argentines had until the end of October to open special accounts and until the end of the day on Monday to deposit cash without fear of prosecution for tax evasion. Attention will now turn to major deadlines on Dec. 31 and March 31 for declaring the estimated US$400 billion in undeclared assets, including real estate, that Argentines have abroad.
The total amount declared will influence how much debt President Mauricio Macri's government needs next year, and when the economy emerges from recession. Private estimates have pegged the total amount of funds that will be declared at as much as US$80 billion.
Investment needed to restore growth has been slow to pick up in Latin America's No. 3 economy under Macri, a free-market proponent elected last year on promises of stimulating growth, cutting inflation and abolishing currency controls.
The total amount declared so far in the tax amnesty has already exceeded the US$20 billion that Finance Minister Alfonso Prat-Gay said earlier this year he hoped it would attract.
One banker had said the cash phase would bode well for the broader amnesty if US$5 billion to US$6 billion is declared. The plan allows participants to pay a fee and avoid prosecution for tax evasion.
Given Argentina's history of cyclical economic crises and currency devaluations, people there have tended to keep their money out of the banking system. Ninety-two percent of cash deposits made were made in dollars, rather than the local peso currency, AFIP said.