Maduro warns Mercosur: "... take us out the door, we go back in through the window"
Wednesday, November 23rd 2016 - 16:54 UTC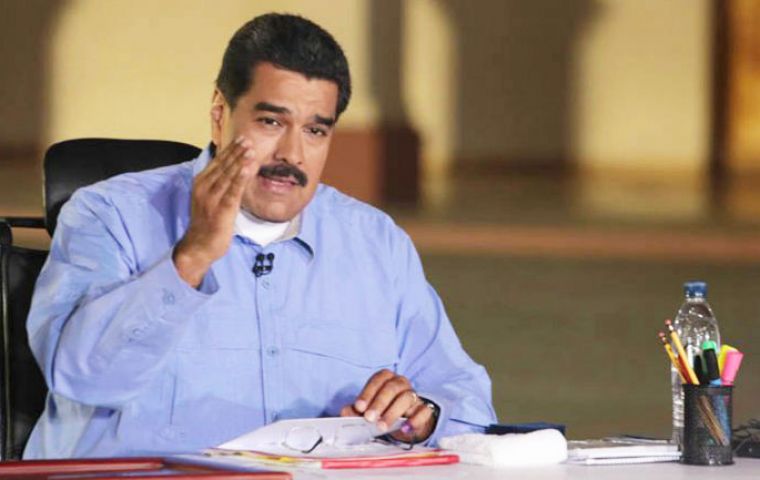 Venezuelan President Nicolás Maduro said Tuesday that no one will be able to remove his country from the Southern Common Market (Mercosur), although the bloc's founders are considering a suspension for failure to fulfill commitments as an "Associate State."
"Nobody is going to be able to take Venezuela out of the Mercosur ... if they take us out the door, we go through the window," Maduro said during his radio show "La Hora de la Salsa." He argued that Paraguay, Argentina, Brazil and Uruguay are trying to "impose a sanction that does not exist" on Venezuela, which holds the presidency of the market but has not been able to exercise it in full due to criticism from the four founding members.
Maduro called on the peoples of Latin America to "mobilize in defense" of Mercosur, "whose principles and statutes are threatened by right-wing governments that promote a destabilizing agenda against Venezuela."
Paraguayan Foreign Minister Eladio Loizaga said Monday that as of December 1, Venezuela will be suspended and "voiceless" in Mercosur and that it will continue as such until it conforms to the statutes. Loizaga has pointed out that Venezuela will not be able to incorporate 112 Mercosur resolutions because they interfere with its internal legislation. Uruguayan Foreign Minister Rodolfo Nin Novoa said Tuesday that Venezuela will have a vote in Mercosur when it internalizes the rules.
On September 13, the four founders of Mercosur agreed that Venezuela, accepted as a full member in 2012, could not hold the presidency because it has not yet ratified all agreements, in spite of which the Maduro régime insists it is excercising full command of the bloc.
Through a joint statement, the Latin American bloc then urged Venezuela to incorporate "close to 300 standards" to fully fulfill its obligations as a full member.