Malcorra confirms Falklands' representation in UK delegation to Red Cross discussions in Geneva
Wednesday, November 23rd 2016 - 09:00 UTC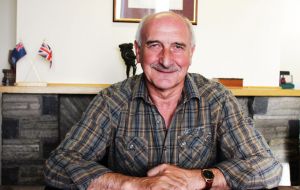 Argentine foreign minister Susana Malcorra confirmed on Tuesday that next month there will be a meeting with representatives from the British government to advance in the agreement to start rolling the humanitarian mission headed by the International Committee of the Red Cross, ICRC, for the identification of former Argentine combatants buried at the Darwin cemetery in Falklands and which remain as unknown soldiers. The minister also said that Falklands will be part of the UK representation.
At a media conference in the foreign ministry, Malcorra confirmed the advance of negotiations with London to reach a consensus on the mission which will include eight forensic experts and will try to identify the 123 remains and for which eighty families have given approval of the DNA tests.
"We're in contact with the families, we are reconfirming the interest of these families, some have not agreed, and we will respect their wishes", said Malcorra.
The minister also confirmed the meeting in December that will take place in Geneva, seat of the ICRC, with members of the Foreign Office, ICRC representatives and from the Argentine government, during which most probably an accord will be signed or a preliminary understanding could be reached.
"Our interlocutor is always the United Kingdom. However, said this the people of the Malvinas, the locals have a role to play and they are not against the humanitarian mission, so it is only logic that they should integrate the British delegation. As to whom will be part of the delegation, I can't say a word" in reference to the Falkland Islanders insistence that they must be included in the talks.
Malcorra also revealed that when the signing of the accord of the Red Cross mission, "we are going to make an inventory of all the advances since the joint statement" signed by Foreign Office minister for Latin America Alan Duncan, last September.
A release last week from the Falkland Islands' government indicated that MLA Mike Summers would be joining the UK delegation at talks in Geneva.