Ex OAS head plans to seek Chile's Socialist nomination for 2017 presidential election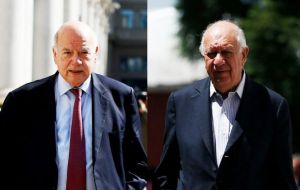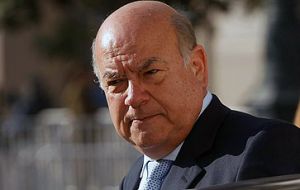 Former OAS Secretary-General Jose Miguel Insulza said on Wednesday that he plans to seek the Socialist Party's nomination for president of Chile. "I come to confirm that I am available to participate in the decisions of the Socialist Party," he told reporters at the party's Santiago headquarters just hours after resigning as Chile's agent in litigation with Bolivia before the International Court of Justice.
"I have eliminated the only reason for which I would be able to be available," Insulza said, referring to his resignation after a year as the Chilean legal representative in The Hague.
Insulza, 73, joins former President Ricardo Lagos in the contest to lead the governing center-left New Majority coalition in the November 2017 presidential election.
Lagos' 2000-2006 government included Insulza in the post of interior minister.
"The competition will show who is more qualified," Insulza said Wednesday when asked about going up against Lagos.
Insulza said he plans to travel the country presenting his proposals in preparation for the New Majority primary, tentatively scheduled for March 2017.
The Socialists are one of the two largest parties in the governing coalition.
"What can I say about someone who was my collaborator for such a long time," the 78-year-old Lagos said Wednesday after learning of Insulza's decision to run for president.
"He must think that it's a well-deserved promotion," Lagos quipped, though adding that Insulza's candidacy is "very legitimate".