Mercosur talks: No summit and Argentina will take over on December 14 rumoured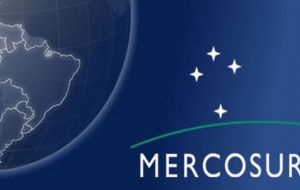 The presidency of the Southern Common Market (Mercosur) in supposedly in the hands of Venezuela, who is said to have been suspended from full membership for failing to comply with the bloc's statutes.
Delegates from Argentina, Brazil, Uruguay and Paraguay have held meetings in Buenos Aires Tuesday and Wednesday to discuss the future of Mercosur and although no formal announcemtn has been made, it was rumoured that there will be no summit (a meeting attended by the presidents) and that Argentina would be put in charge of the group's pro-tempore presidency in Buenos Aires on December 14.
President Nicolás Maduro said Tuesday during his radio show "La Hora de la Salsa" that no one will be able to remove Venezuela from Mercosur. "If they take us out the door, we go back in through the window," were his words, as he then called on the peoples of Latin America to "mobilize in defense" of Mercosur, "whose principles and statutes are threatened by right-wing governments that promote a destabilizing agenda against Venezuela."
The country is to be downgraded from full membership until it conforms to the statutes of Mercosur. Venezuela has failed to incorporate 112 Mercosur resolutions and almost 300 parameters because they interfere with its internal legislation.