Uruguayan president off to Europe looking for investors for an ambitious infrastructure plan
Friday, November 25th 2016 - 08:54 UTC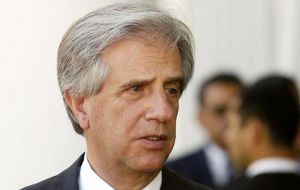 Uruguayan president Tabare Vazquez is off to Europe for a two-week business and academic interests trip which begins on Friday in Spain and will continue in the Vatican, Austria and France. On Friday, Vazquez is scheduled to hold a private meeting with King Felipe IV of Spain, and on Monday with president Mariano Rajoy.
The following day he travels to Galicia, the home of his ancestors where he will hold talks with president Alberto Nunez Feijóo. While in Spain, Vazquez will be making several presentations before investors and business people outlining Uruguay's US$ 12.4bn infrastructure plan, 2015/2020, to improve the roads and railways networks.
Uruguay urgently needs to improve its dilapidated infrastructure and transport system if it is to be considered as a possible candidate for a third pulp mill which is expected to represent an investment of US$ 5bn and create hundreds of jobs. Finland's UPM which owns the first pulp mill built in Uruguay is considering another plant but has conditioned it to improved roads and railways.
On Friday 2 December president Vazquez will be received at a private audience with Pope Francis and the following Sunday, Vazquez oncologist will be attending the 17th World Conference on Lung Cancer in Vienna, Austria. On Monday 5 December, he will deliver a conference on Implementing Tobacco Control Measures in Uruguay.
On Wednesday 7 December, the Uruguayan president will be in Paris for, next to the French leader Francois Hollande open the Fourth World Alliance Summit for an Open Government. Vazquez is scheduled to talk about citizen participation in government affairs based on his experience of holding open cabinet meetings in different cities of the country.