Whole world -even Palestinians- helps Israel fight fires gone beyond control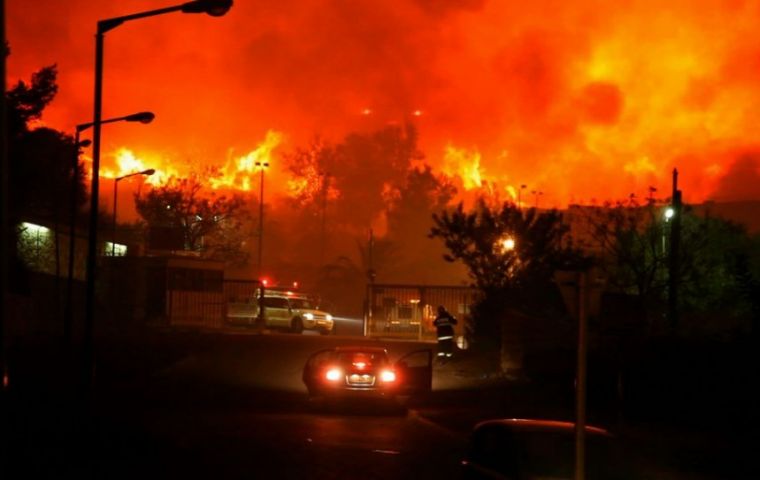 Palestinian firefighters and trucks and firefighting aircraft from Turkey, Greece, Croatia and Russia joined the operation to put down the flames. For four days, Israel has fought in its entire territory dozens of fires that spread thanks to a great drought and strong winds.
Foreign aircraft and Palestinian firefighters came on Friday to help Israel deal with a series of fires that caused the evacuation of tens of thousands of people and caused considerable damage. Canadair Turkish, Greek, Croatian and two Beriev be-200 Russian giants arrived to help small Israeli aircraft to fight the flames, the Israeli Foreign Ministry said.
The arrival of other aircraft from France, Canada, Spain and Azerbaijan was also expected. A dozen planes were trying to slow down the fire that threatened, in the hills near Jerusalem, the small towns of Maale HaHamisha and Nataf, whose inhabitants were evacuated. Rescuers had to evacuate hundreds of people from Beit Meir, a cooperative and religious village in the hills near Jerusalem Friday night as other fires were recorded.
Israel authorities suspect that some of the fires may be of criminal origin, motivated by the Israeli-Palestinian conflict, which has been unresolved for decades. However, the Palestinians also took part in the quenching work last night, sending 41 firefighters and eight trucks to Haifa (north) and Beit Meir (center) where, in a rare event, Israeli and Palestinian teams fought the flames together.
According to police spokesman Micky Rosenfeld the situation was "under control" in Haifa Friday, where hundreds of police and rescuers were still deployed in the streets of the most affected neighborhoods. After spending the night outside their homes, those affected did not even wait for the official authorization - issued on Friday - to return to their homes, and many returned to check the damages and collect their personal effects to spend the weekend elsewhere.
Dozens of houses were completely destroyed in Haifa, according to firefighters, and hundreds of them throughout the country. And while there were reports of many people injured, there has been no death reported nor any global damage, human, material or environmental damage has been published. A similar fire in Haifa in 2010 left 44 people dead.