At least nine dead in Costa Rica after Hurricane Otto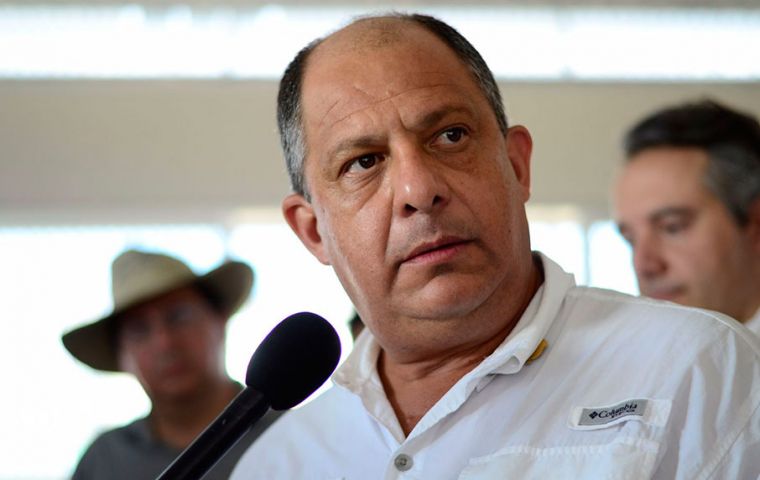 Hurricane Otto finally made its way through Central American and onto the Pacific Ocean Friday leaving at least nine people dead in Costa Rica in villages of The northern part of the country, bordering Nicaragua, where some 7,000 villagers had to me moved into shelters.
Costa Rican President Luis Guillermo Solis announced Friday that at least 9 people had lost their lives in the Bagaces canton, bordering the border town Upala, while 7,000 others were staying in shelters following the passage of Hurricane Otto from the Caribbean Sean on its way to the Pacific Ocean. The entire country was still under red alert on Friday night after heavy rains hit the area for over six hours causing rivers to overflow with subsequent damage to nearby towns. In addition to the nine casualties, other reports indicated there were people missing.
I was hard convincing people they needed to leave. "Some preferred to stay in their houses until they saw the water ravaging trees, cars or pieces of bridges or houses," Upala Mayor Juan Acevedo said. "The town has been destroyed," he lamented.
On the Nicaraguan side of the border, only minor damages and no casualties were reported by Friday night. "Zero casualties and mild structural damage from winds and rains," a statement said.
Winds of more than 150 kilometers per hour with torrential rains hit the cantons of Upala and Los Chiles, bordering on Nicaragua, where on Thursday afternoon the eye of a hurricane entered Costa Rican soil for the first time in its history. After all, it was not something Costa Ricans would expect. Solis had posted on his Twitter account: "Deceased: zero. Disappeared: zero." only to have to back on his steps the following day.
Hurricane Otto was the first to enter Costa Rican territory and the one that has reached the most southerly in the Caribbean Sea and also the strongest of those recorded at the end of the hurricane season, which ends on November 30.