New UK ambassador to Brazil; outgoing diplomat will head Existing EU Department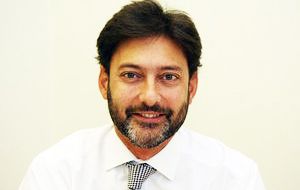 Dr Vijay Rangarajan CMG has been appointed United Kingdom's Ambassador to Brazil in succession to Alexander Ellis. Dr Rangarajan will take up his appointment in Spring 2017. Outgoing ambassador Ellis has been appointed Director General at the Department for Exiting the European Union and will be taking his new role next January.
Dr. Francis Vijay Narasimhan Rangarajan is currently the Foreign Office Europe Director and before that was Director of Multilateral Policy. Between 2010 and 2011 he was Director of Political and Constitutional reform at the Cabinet Office. Previously Constitution Director at the Ministry of Justice.
Posts overseas include Justice and Home Affairs Counselor in Brussels, four years in Mexico, 2003/2006. Dr. Dr Vijay Rangarajan joined the Foreign Office in 1995, is married and has two children.
Ambassador Ellis has been in charge of the British mission in Brazil three and a half years, and as the new Director General for Exiting EU will be responsible for the negotiation strategy and for relations with EU Member States and Institutions.