Uruguayan football out of control: hooligans force the cancelling of the derby
Monday, November 28th 2016 - 09:04 UTC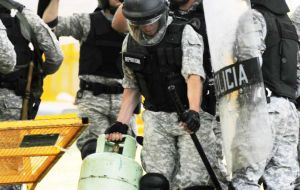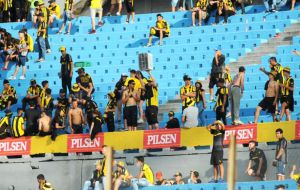 Uruguay's derby between Peñarol and Nacional was called off on Sunday after fans clashed with police in and around the Centenario stadium, while cooking gas carafes were dropped from the stands against officers injuring several. An estimated 150 hooligans were finally arrested by riot policy with horses and dogs and the match was suspended when the police said it could not guarantee the safety of players and people at the stadium.
Violence in Uruguayan soccer matches is not new: recently fans were shot dead, others stabbed and/or mugged in the stadiums washrooms, but this Sunday all records were broken.
Hooligans mostly identified as followers of Peñarol, one of the country's two main teams, caused incidents both inside and outside the monumental Centenario stadium. Those inside stormed soft drink and hot dogs' stands, stealing money, drinks and food, and vandalizing property, and throwing at least five cooking gas carafes (13 and 3.5 kilos) on police officers outside the stadium.
At the tickets controls hooligans, some of them sponsored by the same clubs, according to police intelligence, stormed the gates hoping to get in since they didn't have the tickets or money. Riot police closed the gates, stadium staff left their posts and a huge brawl broke out as the troublemakers were dispersed by mounted officers with support from specially prepared infantry and dogs.
An estimated 150 arrests were made and television and social net footage showed the violence with which hooligans attacked police from inside and outside the stadium, and how special forces chased many of the troublemakers in downtown Montevideo, as they stoned cars and businesses.
Meanwhile the referees of the match who decide whether a match is played or not, on advice from the police said the match was off because of lack of the necessary security and safety.
Peñarol's historic rival is Nacional and today's match is considered by far Uruguay's derby and normally attracts a full house. However on this occasion the stadium was half empty because of the recent incidents (shootings, stabbings and drug gangs) and previous threats in social nets of anticipated violence.
Although during the week leading to the match players had gone public and called for calm and tolerance, when interviewed admitted they had recommended their families and friends to stay at home and watch the match on television because of the "strange" atmosphere.
Nacional, who are in second spot in Uruguay's top flight, could have gone top with a win, while Peñarol are struggling in 11th-place in the 16-team table.
Following the spiraling of incidents it is not clear what will happen with the rest of the Uruguayan championship but there are strong demands to end it. Peñarol says it is prepared to play the derby with an empty stadium but Nacional argues that its fans behaved and do not deserve the punishment of not been allowed to see their team play.
The conflict in Uruguay's football is not limited to the violent incidents at stadiums. Police insist the same teams' managers supply the tickets to the violent hooligans who are controlled by criminal and drug gangs, and thus refuse to have forces inside the stadium and demand the clubs set up their own security. However these have no legal authority to frisk or detain suspects.
Likewise football in Uruguay is so important not only because of sports and money, but also politics, and the long standing tradition has been that the head of the Local football association, AUF, must belong to the same political party as government. This is not the case now and a budding conspiracy is going on.
Similarly the per diems paid by FIFA and other regional soccer associations, Conmebol, have emerged, (anywhere from US$ 20.000 to US$ 60.000 per month), which is a lot of money in Uruguay and have triggered a dispute as to whether those sums belong to the delegates or to the association, AUF.
To make things even more interesting, the wife of the current Home Secretary, Eduardo Bonomi, and thus responsible for law and order and all police forces, is an acknowledged fan of Peñarol and normally mingles with some members of these violent gangs with court recordings showing that on occasions she has warned them that they have their cell phones bugged.