"A little piece of the Malvinas" and Falklands' berries for Pope Francis
Wednesday, November 30th 2016 - 09:54 UTC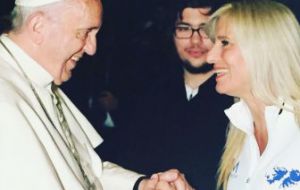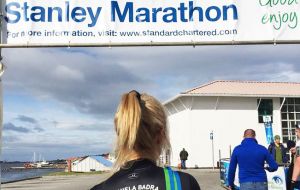 An Argentine teacher and runner who has competed three times in the annual Falklands marathon met last week Pope Francis, in Rome, and handed him a "little piece of the Falklands" and some of the berries that the Argentine soldiers had to eat during their time in the 1982 conflict.
Daniela Badra also gave the pope a video with a peace message from Monsignor Michael Bernard Mc Partland, who until 2015 served as the Apostolic Prefect of the Falkland Islands and Ecclesiastic Superior of St. Helena, Ascension Island and Tristan da Cunha, and whom she met during the several trips to the Falklands, according to reports in the Tierra del Fuego media.
Daniela was in St Peter's square last Wednesday and after waiting a long time Francis finally emerged, blessing the sick and then approaching the faithful.
"I kissed his hand, he held them, looked at my eyes and listened quietly while I begged for those without jobs and no voice, and then I told him I was the only Argentine woman to run three times the Malvinas marathon and then I put in his hands 'little pieces of the Malvinas', elements I collected in Darwin each time I travelled to the Islands", said Ms Daniela.
She added, "I also gave him some berries I collected in the Islands, the same our boys had to eat during the war. He was grateful, smiled and surprised because I had given him 'a little piece of the Malvinas'. He blessed me and moved on".
"It was a very emotional moment, I felt like embracing him but I didn't dare, it was a moment I will never forget".
Apparently Daniela who lives in Rio Grande, Tierra del Fuego took to distance running and has competed three times in the Falklands' marathon, and in one of those occasions came across Monsignor Michael Bernard McPartland with whom she became acquainted and finally recorded a video with the peace message from the South Atlantic.
Ms Badra is a teacher, expert in Autism-Asperger, and mother of two children, Julieta, 24 and Agustín who accompanied her to Rome.