Maduro's Bolivar devalued 60% in November: 3,684 Bolivares to one US dollar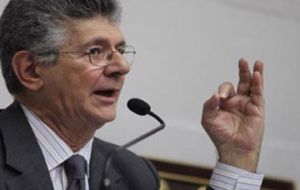 Leaders of the Venezuelan opposition have blamed President Nicolas Maduro's regime of causing the Bolivar to devalue to unprecedented levels against the U.S. dollar. According to data provided by the currency tracking website DolarToday, the Venezuelan Bolivar fell this week to an all-time low against the U.S. dollar in the black market.
DollarToday data provided on Tuesday shows 3,684 Bolívares are worth one US dollar in the black market. The Bolivar has depreciated about 60% in November -- an unprecedented amount even by the crisis-stricken Venezuelan country.
DolarToday is run by Gustavo Diaz, a 60-year-old Home Depot employee based in Alabama. He polls black market currency dealers in Caracas to arrive at his black-market rate. He also polls currency dealers in Colombia's Cucuta border city, where on Tuesday the Bolivar is trading against the Colombian peso at a rate equivalent to 3,435.29 to the U.S. dollar.
Venezuela is facing an economic crisis in which basic goods such as food, medicine and toiletries are in short supply or unavailable. Goods are also unaffordable due to record-high inflation.
The Venezuelan opposition has long-blamed the regime of President Nicolas Maduro of exacerbating Venezuela's problems through corruption and inefficiency.
"Inflation galloping, the Bolivar melts, unrest worsens and the government rectifies nothing," Henry Ramos Allup, president of Venezuela's opposition-controlled National Assembly legislature, said in a statement on Tuesday.
"The currency exchange disaster in the country is the sole responsibility of the narco and corrupt government of Maduro! All else are pure excuses!" Henrique Capriles Radonski, governor of Venezuela's Miranda state and a key opposition leader, said in a statement on Monday.