Massive violent protests against Brazilian congress discussing austerity bill
Wednesday, November 30th 2016 - 10:39 UTC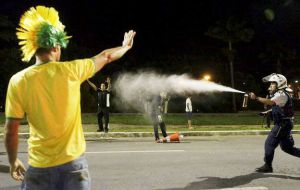 Thousands of people gathered on Tuesday in Brasilia outside Brazil's Congress to protest against the austerity plan of President Michel Temer and against what they see as attempts to shield corrupt politicians. Student groups and labor unions organized the demonstration to coincide with a debate in the Senate on Temer's proposal for a constitutional amendment that would cap public spending for 20 years.
Temer has pursued an aggressive conservative agenda since taking office August 31 after Congress ousted the elected president, social democrat Dilma Rousseff, over alleged budget irregularities.
The constitutional amendment has already passed the lower house, which also drew the ire of the protesters on Tuesday over attempts by some lawmakers to add to an anti-corruption bill a measure that would extend pardons to politicians convicted of campaign-finance offenses.
Illicit campaign donations are a key element in the US$2 billion scandal centered on state oil company Petrobras, a case that has led to charges against dozens of politicians from all of Brazil's major parties.
Tuesday's demonstration began peacefully, but some in the crowd tried to enter the congressional building and police used tear gas to force them to retreat. The militants regrouped and police, including some on horseback, pursued them around Brasilia's Esplanade of the Ministries.
Protesters erected barricades at some points and at least two cars were flipped over and three others set on fire, while protesters assaulted journalists and vehicles belonging to media outlets.
The Senate and lower house went about their scheduled business on Tuesday despite the protests and a declaration of national mourning following the crash of an airplane chartered by Brazilian soccer club Chapecoense.
Players, coaches, club executives and journalists were among the 71 people killed when the aircraft went down near the airport in Medellin, Colombia.
An undisclosed number of protesters were arrested for vandalism and spraying graffiti on government buildings.
Brazil's opposition say the spending cap proposed by Temer would cripple public education and health services in Brazil. To make the bill more palatable, Temer proposed delaying cuts in education and health for a year.
Many of the demonstrators carried the red flags of the Workers Party, which has called for protests against Temer's belt-tightening measures which are meant to restore fiscal discipline and control a widening budget deficit. If the measure clears a final vote on December 13, it would limit spending to the rate of inflation for up to 20 years.