Temer admits Brazil "lacks solid institutions", but foreigners are eager to invest in the country
Thursday, December 1st 2016 - 18:26 UTC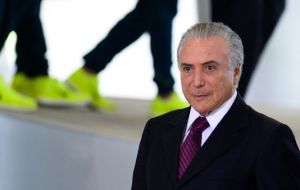 President Michel Temer said that "Brazil doesn't have solid institutions" and that is why, "small factoids" menace the country's institutional framework. Temer made such statements during an event Monday evening with private businessmen.
However the president said that foreign investors are "eager" to invest in Brazil, "but our institutional instability scares them". But insisted that crises are "temporary" and "shouldn't be taken seriously".
Only two months ago, the same Temer declared that Brazil was undergoing a time of "extraordinary stability." He made similar remarks in March during Dilma Rousseff's impeachment crisis. At the time, he said that Brazilian institutions "worked perfectly well."
Of course, this was all before Temer found himself in the center of an influence-peddling scandal. And when he wasn't yet facing an impeachment request of his own. Maybe Brazil, like the States, is also living in a post-truth society?
During his 30-minute speech, the President said he wouldn't disappoint Brazilian business class. "We will privatize several entities and public buildings that belong to the federal government. Our administration will harmonize businessmen and the working classes," he said.
In addition to that, Temer discussed the government's efforts to improve the economy. He cited the federal government spending cap proposal, which will freeze federal spending for 20 years, the pension system reform proposal, and a privatization plan. The government hopes that those measures will generate trust in Brazil.
"People are anxious, and that's normal. We shouldn't let movements that ask for more efficiency scare us," he said.
A week ago, Marcelo Calero stepped down from his position as Minister of Culture. Upon his resignation, Calero accused Geddel Vieira Lima, then Secretary of Government, of allegedly using his position to benefir a real estate project of his own. Now, Calero is saying that Michel Temer himself pressured him on the issue.
In his defense, Temer stated that he only tried to "arbitrate a conflict between members of his cabinet."