Italian "No" wave hits Euro in Japanese markets
Monday, December 5th 2016 - 21:36 UTC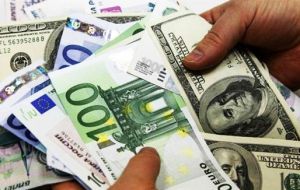 The euro tumbled on Monday in Tokyo following the results in a referendum held in Italy on Sunday to decide whether Prime Minister's Matteo Renzi's plan to reform the Constitution should be carried out. After conceding defeat, Renzi announced he would be submitting his resignation to President Sergio Mattarella on Monday. The referendum results raised political uncertainty at continental level.
The euro dropped as much as 1.4 percent to US$1.0505, falling below its 1 1/2-year low of US$1.0518 touched late last month, and testing its key support levels where the currency has managed to rebound in the past couple of years. A break below its 2015 March low of US$1.0457 would send the currency to its lowest level since early 2003, opening a way for a test of US$1, or parity against the dollar, a scenario which many market players now see as a real possibility.
For now, though, the currency's slide was blocked by heavy option-related buying at $1.05, traders say. "The focus now is on Italy's politics after Renzi resigns. If no one can form a government and the country is forced to hold an election, that would be a real tail risk for markets," said Kyosuke Suzuki, director of forex at Societe Generale.
Given Renzi's Democratic Party (PD) is running neck-and-neck with the anti-euro 5-star Movement in the opinion polls, an early election would rattle investors. If Renzi declines to reconsider, or the President does not open a round of consultations with party leaders to find a new prime minister, investors will not be at peace.
The referendum also came at a bad time for Italy's fragile banking system, as Monte dei Paschi di Siena, the country's third biggest but ailing lender, needs to raise 5 billion euros by year-end to avert the risk of being wound up. "The 'No' vote was priced in to a certain extent in advance. So I do not expect a freefall in the euro in the near term," said Minori Uchida, chief currency analyst at the Bank of Tokyo-Mitsubishi.
"But in the long run, this will delay progress in Italy's efforts to get rid of banks' bad debt and is likely to widen the yield spread of German Bunds and Italian bonds," he added.
The referendum outcome could be taken as another sign of rising anti-establishment sentiment in the core of Europe, potentially eroding investor confidence in the euro ahead of elections in the Netherlands, France and Germany next year.
One comfort for investors, however, was that Austrian voters roundly rejected on Sunday a candidate vying to become the first freely elected far-right head of state in Europe since World War Two, halting at least temporarily the wave of populism sweeping some Western democracies.
The euro fell more than 1.0 percent at one point to 118.70 yen while it also shed more than 0.7 percent to 0.8315 British pound, its lowest level since late July. The dollar briefly fell to 112.87 yen before stabilising at 113.77, up 0.3 percent from late U.S. levels, still off its 9-1/2-month high of 114.83 touched last week. The dollar softened on Friday as investors took profits from its recent gains following solid, but not spectacular, U.S. non-farm payrolls data for November.
Elsewhere, the New Zealand dollar fell almost one percent to $0.7075 after Prime Minister John Key, who won praise for his economic stewardship after the global financial crisis, unexpectedly announced his resignation.