PISA global education survey has mostly Asian countries in the top ten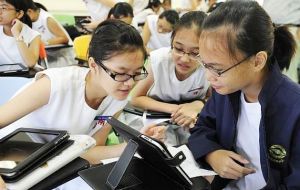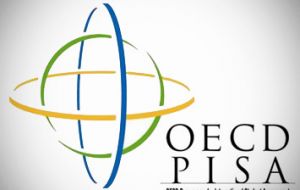 Singapore has come top of the class in the Organisation for Economic Co-operation and Development's (OECD) latest global education survey, with the Asian city-state's students the highest performing in tests on basic academic skills. Japan came in second in the OECD's survey, followed by Estonia, Taiwan and Finland. Japan and Canada, which came seventh, G7 nations fell lower in the data.
The United Kingdom ranked 15th whereas the United States came 25th. Seven Asian nations are included in the report's top ten. OECD's Program for International Students Assessment surveyed roughtly 540.000 15/year old students in 72 countries, focusing on science, reading, maths and collaborative problem-solving.
In an accompanying statement, the OECD underlined its emphasis this year on skills in science, relevant due to "the context of massive information flows and rapid change" in the modern world.
Roughly one in ten students – which falls higher at one in four in Singapore – worked at the highest level in science. Meanwhile, of the countries surveyed, more than one in five fell below the baseline proficiency. "Only in Canada, Estonia, Finland, Hong Kong (China), Japan, Macao (China), Singapore and Vietnam do at least nine out of ten 15-year-old students master the basics that every student should know before leaving school," the OECD said in a statement.
The Far East was a top performer in mathematics. "More than one in four students in Beijing-Shanghai-Jiangsu-Guangdong (China), Hong Kong (China), Singapore and Chinese Taipei are top-performing students in mathematics, a higher share than anywhere else," the report said.
In the region, Chile placed first among education systems, having moved from third place in 2000 to remaining in first place since 2006. Uruguay placed 47, Costa Rica placed 55, Colombia placed 57, Mexico placed 58, Brazil placed 63, Peru placed 64 and the Dominican Republic placed 70.
Policies recommended by the OECD to improve education across the globe include increasing support to disadvantaged students and schools, delaying the sorting process of students, continuing to invest in high quality teachers and challenging the stereotypes associated with education and aspiration.