Identification of soldiers buried in Falklands: talks on protocol procedure being in Geneva
Thursday, December 8th 2016 - 08:40 UTC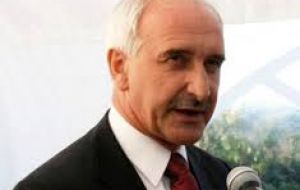 The governments of Argentina and the Falkland Islands reported almost simultaneously this week that respective delegates had left for Geneva, Switzerland to hold talks on Thursday and Friday with the International Red Cross (CICR) on the process to follow for the identification of 'unknown' Argentine combatants buried at the Darwin cemetery in the Falklands.

According to the Argentine foreign ministry the bilateral meeting (UK and Argentina) will take place Thursday and Friday, when "it is expected to agree on the terms of the mandate which both sides will extend to the CICR so it can proceed with the initiative of strict humanitarian nature".

From the Falklands it was reported that lawmaker MLA Mike Summers left on Tuesday for Geneva to attend talks relating to DNA testing of the remains of Argentine combatants buried in Darwin cemetery in the Falklands.

The talks will comprise Argentine and British diplomats as well as members of the International Committee of the Red Cross (ICRC) and MLA Summers.

The Falklands report also mentions the fact that the meetings were considered "highly sensitive by the Argentine government due to Falkland Islanders being included". It is well known that the Argentine approach to Falklands discussions, the only it accepts, are bilateral and under no circumstances tri-lateral (including Falklands representatives).
The Argentine foreign ministry report recalls that minister Susana Malcorra last 22 November said the Argentine government had contacted all the families of the 123 unidentified, whose remains are buried in the Darwin cemetery.

Malcorra said at the time that her office was looking to reconfirm with these families their willingness or not, to agree with the task of identifying the remains.

CICR will coordinate all identification tasks and in the Geneva meeting the purpose is to agree on the protocol so that exhumation of the remains can proceed.

Argentine foreign ministry sources confirmed that the Geneva delegation is headed by Maria Teresa Kralikas, head of the Malvinas, Antarctica and South Atlantic Under Secretary, plus Osvaldo Marisco, director general of that office. Other members are ambassador in Geneva, Hector Marcelo Cima; the head of the Foreign minister private secretary office Tomas Giudici and Legal counselor Mario Oyarzabal.

The report also points out that Argentina and UK coincided last September, in a joint release, in their determination to give full support to the DNA identification process of the combatants.

Falklands also mentions that last September UK and Argentina signed a joint release which included the commitment to support the identification of the soldiers. Previous to that the Red Cross last June was in the Falklands and stated they were well aware of the wishes of the Argentine families.