UK and Brazil underline significance of bilateral cooperation and initiatives in strategic areas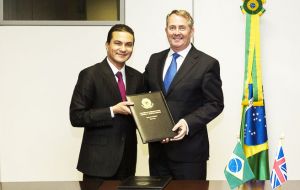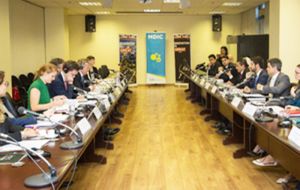 British Secretary of State for International Trade, Dr Liam Fox, and the Brazilian Minister for Industry, Foreign Trade and Services, Marcos Pereira, emphasized the importance of current bilateral cooperation and agreed initiatives on strategic areas to support mutual economic development, during the 9th UK-Brazil Joint Economic and Trade Committee (JETCO) meeting held in Brasília this week.
The ministers reiterated their commitment to strengthening bilateral commercial ties and in cooperating to promote bilateral investment and trade relations among both countries as well as with Mercosul. They also reaffirmed the commitment to the JETCO and noted advances since the last meeting in London in October 2015.
Regarding trade, Brazil and UK exchanged positive views on bilateral trade relations. Both Ministers reaffirmed their support for ambitious EU-Mercosul FTA negotiations and agreed that they look forward to building on this progress following the UK's departure from the EU. They also reaffirmed their commitment to continue conversations on deepening future UK-Brazil commercial relations and market access. Ministers instructed officials to work together on a joint report to explore opportunities for advancing trade and investment between the UK and Brazil to be presented at JETCO 2017, noting their respect for the respective competences of the European Union and Mercosul.
They agreed on the importance of negotiations under the World Trade Organization (WTO) framework and agreed to work together to achieve productive results from the Buenos Aires Ministerial Conference.
On the Prosperity Fund, Ministers celebrated the cooperation activities already taken forward though the Prosperity Fund. They highlighted the importance of projects on:
Trade facilitation and investment promotion, such as the partnership on innovation, that helped Brazilian start-ups to internationalize by establishing in United Kingdom, generating investments in both countries;
Trade efficiency and regulatory cooperation, that will reduce the bureaucracy of foreign trade operations. Ministers confirmed their intention to work on a 4-year cooperation programme to facilitate trade. The objective of both counties is to promote economic development and growth through trade expansion, increasing efficiency in trade operations through trade facilitation reforms, improving mutual understanding of the respective regulatory environments, promoting SMEs to join global trade chains and stimulating trade in the services sector. They agreed the creation of Steering Group, to coordinate the trade programme and bring together actions within the Brazilian government.
On Innovation and Intellectual Property, Ministers committed to continue cooperation and the exchange of experiences in innovation and intellectual property. Programmes and public policies to boost innovation and competitiveness were discussed, as well as ways of facilitating technological cooperation between British and Brazilian companies.
Both Ministries highlighted the progress since the last JETCO on bilateral co-operation in innovation, such as: a soft landing mission with 14 Brazilian start-ups to the United Kingdom supported by the Prosperity Fund, in February; the signing of a Memorandum of Understanding on Bilateral Cooperation in Innovation between the Parties, in August, aiming to stimulate exchange of experiences and good practices on innovation, entrepreneurship, venture capital and intellectual property; and the First Call for UK-Brazil R&D Cooperation Projects, in November 2016, launched by MDIC and Innovate UK, and directed specifically at projects on smart cities covering three themes: (1) Integration and governance of city systems; (2) Urban infrastructure and accessible and smart mobility; and (3) Sustainable urban systems.
Ministers witnessed the renewal of the Memorandum of Understanding between the Brazilian National Institute for Intellectual Property (INPI) and the Intellectual Property Office (IPO), whereby the parties committed to continue the cooperation on Intellectual Property matters. The Memorandum will be underpinned by a working plan with practical activities including sharing of best practice in both IP office management and patent examination methods, which will promote innovation, creativity and economic growth in both countries.
HM Ambassador to Brazil, Alex Ellis, signed the agreement on behalf of Baroness Neville-Rolfe, the UK´s Minister for Intellectual Property.
In other fields of cooperation, the UK and Brazil affirm the importance of promoting Building Information Modeling (BIM), in order to increase the productivity of the construction industry and improve value for public money. The parties celebrated the signature of the Memorandum of Understanding between MDIC, Executive Secretariat for the Investments Partnership Programme (PPI) and the Department for Business, Energy & Industrial Strategy (BEIS), and committed to exchanging information on national strategies for the consistent diffusion of BIM. Sharing information on BIM will promote sustainable growth and increase commercial opportunities in the construction and digital economy sectors in both countries.
The parties agreed to encourage professional exchange between the two Ministries. Both the Department for International Trade and the Ministry of Industry, Foreign Trade and Services are willing to support technical visits to encourage closer cooperation between their officials.