Lula accused of helping Saab win US$ 5.6bn defense contract for the air force
Saturday, December 10th 2016 - 10:06 UTC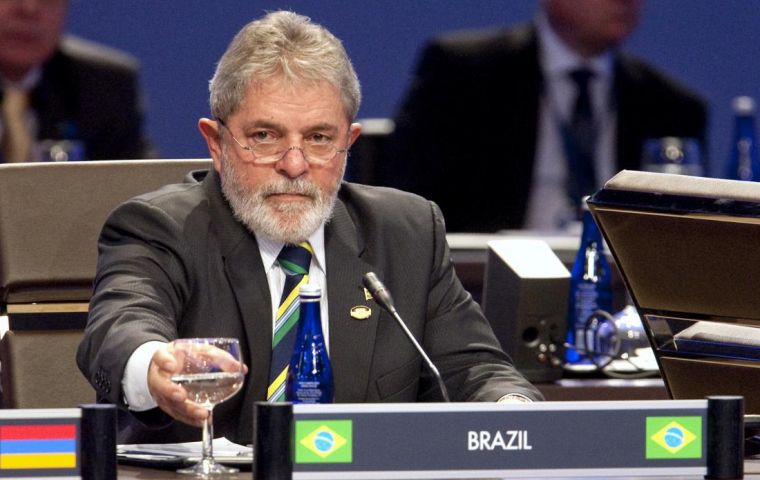 Federal prosecutors on Friday filed new criminal charges against Brazil's former President Lula da Silva for allegedly using his influence for financial gain after he left office. Lula was charged with influence peddling, money laundering and conspiracy.
Federal prosecutors in Brasília said Lula allegedly agreed to use his clout in government circles to win tax breaks for the auto industry as well as a government contract for a defense company, whose lobbyists in turn paid more than 2.5 million Reais (US$740,000) to Lula's son, Luís Cláudio Lula da Silva.
Prosecutors on Friday also charged Luis Claudio with money laundering and conspiracy. In a statement, a lawyer for Lula da Silva denied any wrongdoing for both father and son.
Lula who led Brazil between 2003 and 2010, is already a defendant in three other criminal cases involving alleged embezzlement and influence peddling. Prosecutors say the former president was the mastermind of a massive graft ring that skimmed billions from Brazil's state-run oil company Petrobras.
Lula was accused of having used its influence over the subsequent Workers Party government to help Saab win the tender for 36 jets worth around US$5.6 billion. Allegedly Luis Claudio was paid the 2.5 million Reais by Marcondes & Mautoni, a company who assists foreign firms doing business in Brazil and who prosecutors said worked for Saab.
Lawyers for the family said the payment Lula's son received from Marcondes & Mautoni referred to services effectively executed by Luis Claudio, such as organizing American style football championships in Brazil.
They have denied in the past the veracity of all the accusations against the former president, saying he has become a target of political persecution.
Saab representatives in Brazil said they were in the process of acknowledging the accusation and would eventually comment at a later stage.
The Brazilian government announced late in 2013 that it had chosen the Gripen NG fighter jet produced by Saab. The Swedish plane beat Boeing's F-18 Super Hornet and France's Rafale, produced by Dassault Aviation. The contract with Saab was signed in 2014.