Another Goldman Sachs/Wall Street top official named to Trump's economic team
Tuesday, December 13th 2016 - 07:51 UTC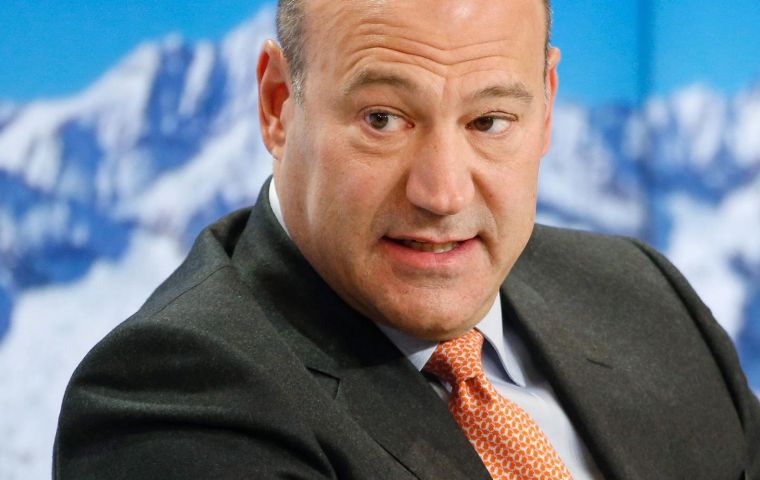 Gary Cohn who was tapped Monday by President-elect Donald Trump to head the Gary Cohn , is second-in-command at investment banking giant Goldman Sachs, which he once hoped to lead. Cohn, 56, has worked on Wall Street since the 1990s and is one the firm's best known public faces. He makes frequent television appearances to talk about the health of financial markets and the global economy.
Before joining the Wall Street powerhouse, the married father of three — who comes from a humble family background and struggled with dyslexia in his youth — started out selling windows and worked in the steel industry.
At Goldman, Cohn was in charge of some of the firm's cash-cow businesses, including the division overseeing fixed income, currency and commodities. As president and chief operating officer, he has been heir apparent to CEO Lloyd Blankfein since 2006.
But after it became clear that Blankfein, who announced early this year he was "probably cured" of lymphoma, would not hand over the reins any time soon, senior figures in the bank began to consider Cohn's future.
Cohn's selection for the Trump administration will require a new line of succession within Goldman, and the bank could take advantage of the opportunity to promote a new generation of leaders. It doubtless also will fuel criticism that Trump's inner circle is packed with Goldman alumni, with Cohn being the fourth to join.
Trump already had picked Steven Mnuchin to lead the Treasury Department, and Steve Bannon as chief strategist in the White House, while Anthony Scaramucci is a member of Trump's transition team, all former Goldman bankers.
The nominations fly in the face of Trump's attitude toward the bank on the campaign trail, when he attacked rival Hillary Clinton's ties to it. In the campaign's closing moments, Trump went as far as to use Blankfein's face in a TV spot accusing elites of illegitimately holding the "levers of power," drawing outraged accusations of anti-Semitism.
But the bank's shares have soared more than 32% since Trump's shock triumph at the polls last month over Clinton — a US$24 billion capital gain in about a month. Two former Treasury Secretaries were Goldman alumni: Robert Rubin and Henry Paulson, under the Bill Clinton and George W. Bush administrations.
Trump has promised tax cuts, boosts to infrastructure spending and the return of industrial jobs to the United States, all while dismantling the post-crisis financial reforms of the Obama administration and calling US trade agreements into serious doubt.
He said Cohn will be his key advisor. "As my top economic advisor, Gary Cohn is going to put his talents as a highly successful businessman to work for the American people," Trump said in a statement.
"He will help craft economic policies that will grow wages for our workers, stop the exodus of jobs overseas and create many great new opportunities for Americans who have been struggling."
"I share President-elect Trump's vision of making sure every American worker has a secure place in a thriving economy, and we will be completely committed to building a nation of strength, growth and prosperity," Cohn said, who during the campaign supported hopeful Rubio and in the past has voted Democrat.