Philippine President Duterte admits avoiding Obama at APEC summit on false pretexts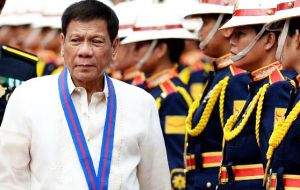 Philippines President Rodrigo Duterte acknowledged he skipped an evening event at the recent Asia-Pacific Economic Cooperation (APEC) summit in Lima to avoid having to shake hands with Barack Obama. In a speech published Tuesday in a Manila newspaper, Duterte made it clear his absence had not been due to a an upset stomach, but rather a move to avoid an awkward situation.
Duterte, who is well known for his undiplomatic behaviour, explained that "I attended the meetings, actually. Do not believe those idiots out there. But you know, Obama was there, and because we had an exchange of words, I was just trying to avoid an awkward situation," he added. Duterte said he feared that Obama would not accept his "gesture of handshake or his [Obama's] getting out of the way to avoid him." On different occasions, the Philippines leader has told the US president to "go to hell" and called him a "son of b*tch."
"Because I did not want to create a scene, an awkward situation, I just stayed on the sidelines. That's the truth, I was avoiding an awkward situation, especially an international awkward behavior," the Philippines president said. "I did not have a bum stomach; do not believe it. That was just an excuse. But really – I would not know how to react if he (Obama) would just push my hand," he said.
Duterte's rhetoric has been quite the opposite in relation to US President-elect Donald Trump, though, whose victory Duterte welcomed. The Philippines leader pointed out he has much in common with Trump: "We both like to swear," he explained. "We curse right away, we're the same," he added.