Heat wave in Santiago breaks century old record, 37.3 Celsius
Thursday, December 15th 2016 - 08:20 UTC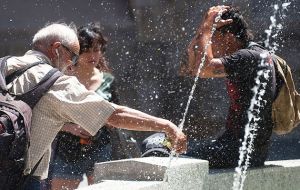 A heat wave brought blistering temperatures to the streets of Chile's capital, Santiago, on Wednesday and broke a century-old record as thermometers reached 37.3 Celsius. Chile's meteorological service called the event extreme, while the health ministry advised residents to wear light clothing, drink water and avoid outdoor activities.
The nation's forestry service, which is currently battling scores of forest fires in central Chile, warned of "extreme risk" of dry vegetation going up in flames, creating a potential headache for Chile's timber industry.
Authorities said that exposure to ultraviolet light, the cause of summer tans and sunburns, was also a concern, especially in agriculture and other industries that require outdoor work.
"It's at an extreme level, I mean dangerous just doesn't do it as an adjective", said Luis Salazar, with the nation's meteorological service.
Santiago, a city of around 6.2 million people, is in a dry mountain valley in central Chile less than 100 kilometers from the Pacific Ocean and typically enjoys a moderate climate.
The temperature on Wednesday broke a previous high of 37.2 Celsius, set in 1915. Temperatures are forecast to slowly subside to the low 30s in the coming days.