Putin, most powerful world person for the fourth time running; Trump on second spot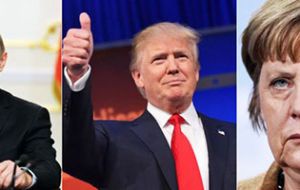 Russian President Vladimir Putin again leads Forbes' list of the world's most powerful people, followed by U.S. President-elect Donald Trump in the No. 2 spot. The annual ranking of 74 individuals was released Wednesday. It considers personal influence, financial resources, whether the person can affect a country's GDP or a company's value, and their power in multiple spheres as factors in determining the list.
It is the fourth consecutive year that Putin is at the top of the list. He is followed by Trump and German Chancellor Angela Merkel.
The rest of Forbes' Top Ten, in order, are Chinese President Xi Jinping, Pope Francis, U.S. Federal Reserve Chair Janet Yellen, Microsoft co-founder and philanthropist Bill Gates, Alphabet Inc. CEO Larry Page, whose company includes Google Inc., Indian Prime Minister Narenda Modi and Facebook co-founder and CEO Mark Zuckerberg.
The top three in 2015 were, in order, Putin, Merkel and U.S. President Brarack Obama, who dropped to 48th on the current list.
Among those on the 2016 list are Israeli Prime Minister Benjamin Netanyahu, in 20th place; entrepreneur Elon Musk, 21st; ExxonMobil CEO and U.S. Secretary of State nominee Rex Tillerson, 24th; businessman and former New York City mayor Michael Bloomberg, 56th; General Motors CEO Mary Barra, 62nd; Canadian Prime Minister Justin Trudeau, 66th and Senate Minority Leader Chuck Schumer, D-N.Y., 74th.