Falklands Association new chair of the Subcommittee in the Islands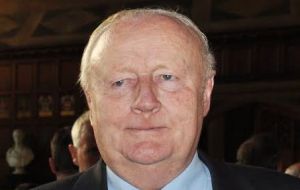 Mark Pollard has stepped into the role of Chair of the Falklands Islands Association Sub-Committee in the Falklands, replacing Gerald Cheek who is standing down from the Post.
Gerald Cheek has been involved with the FIA for 48 years and has ably led the FIA in the Islands almost since its inception in its present form in 1986. The Sub-Committee is very pleased that Gerald has agreed to remain a member and will continue to give them his support and advice.
Mark has a small group of committed supporters on the team with him in Gerald, Andrew Newman, Vicky Collier, Ailsa Heathman, Emma Brook, Nina Aldridge and Ros Cheek.
When asked for his comments, Mark said: "I would like to thank everyone who has been involved in keeping the FIA going over the past 48 years, from the Executive Committee to the local committee members. I look forward to working with the others to continue the fantastic work of the FIA and to increase our pool of members."
Bev McLeod, who is in Stanley on behalf of the FIA, said: " I cannot think of a better team to lead the FIA forwards into 2017 here. They are a dynamic group with brilliant ideas as to how they can promote everything that is vibrant and positive about the Falklands, both here and in the U.K. I hope that everyone living and working in the Islands will give them their full support."
For more information please go to our website on http://fiassociation.com/