Macri's Argentina back from world isolation except from Venezuela and Iran
Saturday, December 17th 2016 - 09:13 UTC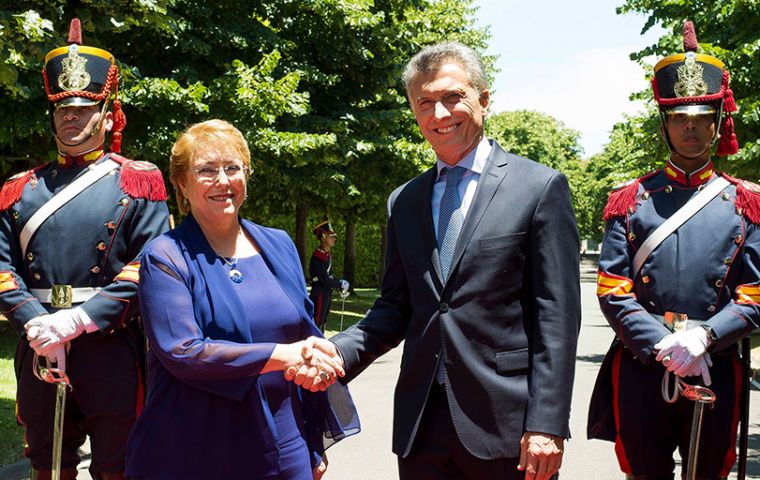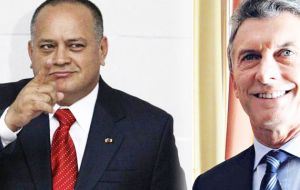 Argentine President Mauricio Macri said Friday that "we have come from years of isolation and bad relations with almost all countries except Venezuela and Iran." He added that "this year we have experienced a Copernican change in that sense."
Macri made those remarks during a joint press conference following a meeting with his Chilean counterpart Michelle Bachelet at the Olivos presidential residence in the outskirts of Buenos Aires. "Ties between countries go beyond their governments," he added.
He also took a minute to reply to Venezuelan politician Diosdado Cabello, who Thursday called him a "coward" for the alleged attack against foreign minister Delcy Rodríguez during an unofficial trip to Buenos Aires for a Mercosur meeting to which she had not been invited -- unlike the other Mercosur foreign ministers -- in view of Venezuela's suspension from the bloc.
"What is really cowardous is to subject the people in such a way, with restrictions on freedom of expression and so many other things," Macri stressed as he downplayed the incident involving Rodríguez as a "minor issue."
For her part, Bachelet called for respect for the "sovereignty of the Venezuelan people" to solve their problems, but she was confident of the efforts being made by the Vatican.
Both presidents also explained that they had reached a better understanding to further simplificate the migration process between the two countries and improve connectivity from Aguas Negras passage and others passages along the border.
Bachelet also spoke about the ongoing project of creating integrated tourist circuits to attract visitors from all over the world, "especially from China."
"We are not only united for an extended border, we have many reasons to share," Bachelet admitted.