Brazil's Vale sells its fertilizer business to cut debt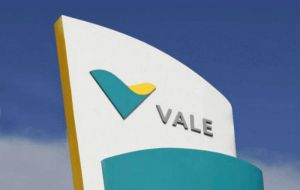 Brazil's Vale, the world's largest iron ore and nickel miner said on Monday it will sell most of its fertilizer business to US-based Mosaic Co., the No.1 producer of phosphate fertilizer, in a deal worth about US$2.5 billion.
The transaction, part of Vale's strategy to cut debt and focus on its core businesses, excludes the nitrogen and phosphate assets in Cubatão, Brazil, which generated cash flow of US$108 million in 2015, the company said. However, Vale expects to also sell such units next year.
Mosaic has agreed to acquire the rest of Vale's phosphate assets in Brazil, its stake in Peru's Bayovar mine and the firm's Kronau potash project, in Canada. Mosaic has yet to decide whether to include the Rio Colorado potash project in Argentina in the acquisition.
As a result of the deal, the Rio de Janeiro-based miner will receive US$1.25 billion in cash and US$1.25 billion in newly issued d Mosaic's shares, equivalent to a nearly 11% stake in the firm.
The sale, expected to close by the end of 2017, brings an end to Vale's supremacy on the phosphate market in Brazil, which in turn is the planet's fifth-biggest user of fertilizer.
The world's largest producer of iron ore and nickel, Vale had long vowed to hold on to world-class operations such as the ones it has now agreed to offload. But in February, it announced it was putting its core assets on the block in a bid to reduce its net debt to US$15 billion within 18 months, from US$25.23 billion at the end of 2015.
Better commodity prices for iron ore and nickel in the last quarter of the year, however, have prompted Vale to reconsider such drastic decision, the company said last month. For now, the miner's streamlining efforts will continue to be centered on offloading non-core assets, it added.