Christine Lagarde guilty, yet unpunished
Tuesday, December 20th 2016 - 06:09 UTC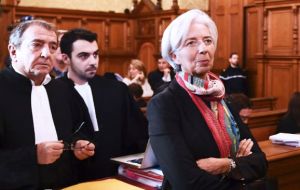 A French court on Monday found International Monetary Fund (IMF) chief Christine Lagarde guilty of negligence for her doings as finance minister in 2008, when she failed to challenge a state arbitration payout to a business tycoon in.
Lagarde was imposed no penalty. "The context of the global financial crisis in which Madame Lagarde found herself in should be taken into account," according to the court's chief justice Martine Ract Madoux. Lagarde's good international reputation and standing were also reasons for not handing down a punishing sentence which could have been of up to a year in prison.
The judges did not see negligence in Lagarde's decision to seek an out-of-court settlement with businessman Bernard Tapie, but they said her failure to contest the award to him of 400 million euros ($417 million) was negligent, and led to a misuse of public funds.
Lagarde's lawyer said immediately after the ruling that his team would look into appealing the decision.
The ruling risks triggering a new leadership crisis at the International Monetary Fund after Lagarde's predecessor Dominique Strauss Khan resigned in 2011 over a sex assault scandal. The Washington-based institution's executive board was expected to meet shortly to consider the implications of the verdict, IMF spokesman Gerry Rice said.