Trump easily confirmed by the Electoral College: promises "to work hard to unite the country"
Tuesday, December 20th 2016 - 06:40 UTC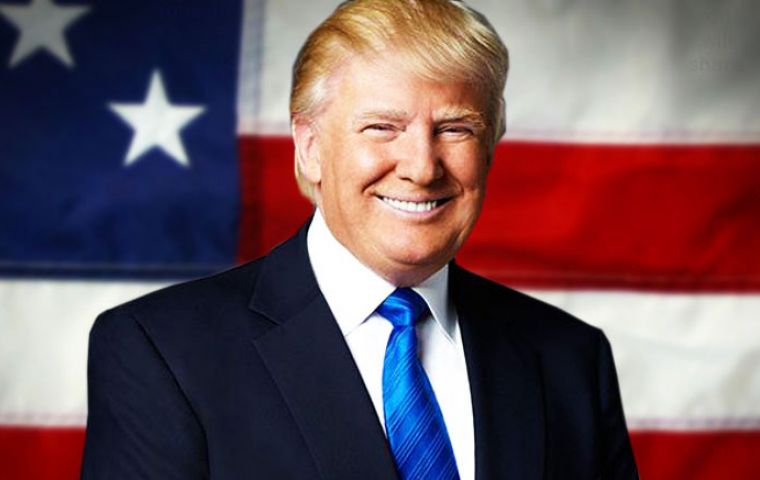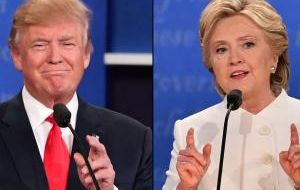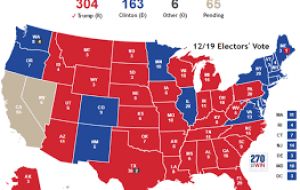 Billionaire real estate mogul Donald Trump was officially elected as the 45th U.S. president Monday, his victory confirmed by the required vote in the Electoral College. Republican Trump prevailed comfortably in the Electoral College easily dashing a long-shot push by a small movement of detractors to try to block him from gaining the White House.
Trump, who is set to take office on Jan. 20, garnered more than the 270 electoral votes required to win, even as at least half a dozen U.S. electors broke with tradition to vote against their own state's directives, the largest number of "faithless electors" seen in more than a century.
On Monday, in time-honored fashion, the electors from each of the states and the District of Columbia cast their ballots in their respective state capitals and Trump, as expected, surpassed the 270 majority figure to win a four-year term as the American leader.
Die-hard supporters of his opponent, Democrat Hillary Clinton, had demanded that Trump-pledged electors drop their support of him, on grounds that Clinton defeated him by nearly 2.9 million votes in the popular count. Some protested Monday outside state capitals in a last-ditch effort to thwart Trump.
But as each state reported its Electoral College balloting, Trump's pledged electors based on the state-by-state outcomes held firm, assuring him of victory. Even with Clinton's lead in the national popular vote count, Trump won, sometimes narrowly, where it mattered, in 31 of the 50 state contests, to claim the Electoral College majority.
After the Texas electoral college put Trump over the 270-vote threshold, the president-elect thanked "the American people for their overwhelming vote to elect me as their next president of the United States." He promised in a statement released late Monday to "work hard to unite our country and be the President of all Americans."
With all states reporting, Trump won 304 votes while Clinton received 227. The other seven electors voted for someone other than their party's nominee. In most election years, voting in the Electoral College is little more than a formality. But that is not the case this year.
Because of the close and bitterly contested race, and continuing opposition to Trump's victory by many Clinton supporters, thousands of Americans bombarded the 306 Republican electors with emails and phone calls, demanding they reject Trump, either by voting for Clinton or another, more acceptable Republican.
In the unlikely event that 37 or more Republican electors had defected from Trump and no candidate wound up with 270 or more, the Republican-controlled House of Representatives would have picked the president.
Electors in 29 states are bound by state law to vote for the candidate who won their state vote count, and often elsewhere, electors say they feel morally compelled to vote in the Electoral College the way their state voted.
Although the vast majority of Americans focused their ballot choice as between Trump and Clinton, they actually were casting ballots for slates of electors supporting the two candidates, often comprised of political activists in their respective states. Clinton's husband, former President Bill Clinton, was an elector for her in New York.
Hillary Clinton piled up big vote margins in California and New York to give her the national popular vote edge, even as Trump scored impressive wins in states that Democrats have won in past presidential elections. It is the fifth time in U.S. history, and the second in the past 16 years, that the popular vote winner did not win the all-important Electoral College vote.