US labor market "the strongest in more than a decade", Yellen tells graduating class
Tuesday, December 20th 2016 - 06:51 UTC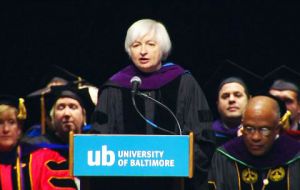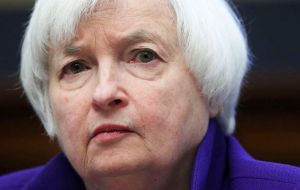 The United States labor market is in the best condition in last decade said the chairman of the Federal Reserve Janet Yellen during a speech to the graduating class at the University of Baltimore. Fed chairman said that the signs of healthy labor market are abundant, among which stand out the stable rate of creation of new jobs and lower share of cuts.
"After years of slow economic recovery you advent of the strongest labor market in more than a decade", said Yellen. "However, the challenges are not overcome. The economy is growing more slowly than in previous periods of recovery. Productivity growth is also disappointing", added she.
Yellen pointed out, however, that according to results of a survey, the younger workers are more optimistic about the labor market. She also cited research which shows that those who enter the workforce during a strong economy are more likely to hold a job, stay employed and to enjoy higher incomes.
Meanwhile the Fed chairman said, the data show that the gap between the incomes of people with secondary education and those college graduates has reached an average of 70%. For comparison, in 1980 the difference was 20%. The two main engines for increasing the difference are globalization and technology development, Janet Yellen told the graduating class of the University of Baltimore.
In response to her positive statements the US dollar climbed against most major currencies. In New York trading on Monday, the Euro fell to US$1.0405 from US$1.0438, and the British pound dropped to US$1.2399 from US$1.2487.
Chairperson Yellen comments came a week after the US central bank decided to raise interest rates for the first time this year. The Fed also released its updated economic projections, which indicated that the central bank forecasts three rate hikes next year, while in its September projections, Fed officials expected only two rate hikes in 2017.