Fireworks market explosion kills at least 31 in Mexico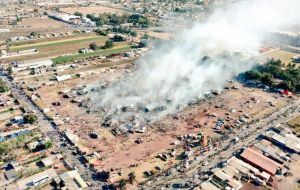 A huge explosion on Tuesday at the San Pablito fireworks market outside Mexico City has killed at least 31 people, according to the latest reports, while scores were injured. It was said that there were around 300 tonnes of fireworks on site at the time of the explosion, but that is yet to be confirmed.
Fireworks continued to explode after the initial blast, sending a huge plume of charcoal-grey smoke billowing into the sky over the town of Tultepec. "People were crying everywhere and desperately running in all directions," a witness said.
More than a dozen children suffered burns to over 90% of their bodies and were being sent to the US city of Galveston in Texas for treatment, said Eruviel Ávila, the governor of the state of Mexico. The state's top prosecutor later raised the death toll to 31.
The explosion, which was caught on camera, flattened the San Pablito market which is one of the mainstays of the economy in Tultepec and where many people make a living from manufacturing fireworks – often in clandestine workshops. The San Pablito market was heavily damaged by similar fires in September 2005, when a chain of explosions just before the country's independence day celebrations injured dozens of people.
The cause of Tuesday's explosion is still under investigation. Officials in Mexico state, which surrounds Mexico City, said they were focusing their attention on the injured. The Christmas season brings in brisk business, according to merchants at the market, as Mexicans stock up on pyrotechnics.
Disasters are not uncommon in places such as Tultepec, where authorities have tried for decades to control a fireworks industry famed throughout Mexico for producing everything from firecrackers and sparklers to towering structures called "castillos", which spin and explode and are installed at small-town festivals. Fireworks are commonly sold over the Christmas holidays, but also prove popular additions to patron saint festivities, when celebrants set off rockets in the pre-dawn hours.