ISIS claims responsibility for Berlin lorry attack
Wednesday, December 21st 2016 - 16:56 UTC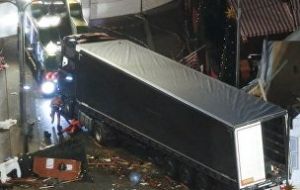 The Islamic State (ISIS) terror organization Tuesday admitted to being behind Monday's attack, when a lorry driven by one of its "soldiers," crashed into a Berlin Christmas market, leaving 12 people dead.
The attacker has not been identified yet and the Pakistani national originally arrested has been set free due to lack of substantial evidence against him.
Federal prosecutor Peter Frank had admitted that the style of attack and the choice of target suggested Islamic extremism and Interior Minister Thomas de Maizière, who was at first reluctant to jump into conclusions, recognized that "we can no longer doubt that the terrible event last night was an attack."
ISIS often refers to individuals who carry out attacks as its "soldiers" but whether there was any actual contact with the organization is yet to be proved. Face-to-face or online communication are possible but far from certain. If there was no direct contact, it could still be the case that an individual was inspired rather than directed by the group. In this case, an individual may leave his or her own pledge of allegiance in written form or online or in a video. But until such evidence emerges, it remains hard to know if this is just an opportunistic claim by the group rather than one based on real substance.