Kerry told movement of Gullen behind killing of Russian ambassador
Wednesday, December 21st 2016 - 05:56 UTC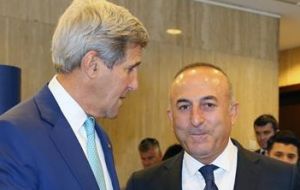 Turkey's Foreign Minister Mevlut Cavusoglu had a telephone conversation with US Secretary of State John Kerry during which Barack Obama's chief diplomat was informed that the movement of Fethullah Gullen was behind Monday's assassination of the Russian ambassador to Ankara, the official newsagency Anadolu reported.
Turkey regards the movement of Gullen, a former cleric and opposition leader who has lived in the United States for over a decade, as the main force behind July's failed military coup in the country.
However, US Department of State spokesman John Kirby was more skeptical about the accuracy of the information Turkey was so quick to share: "I don't know and I don't think you know what the motivations were behind this individual [the lone wolf killer]." He added that "we need to let the investigators do their job and let the facts and the evidence take them where it is before we jump to conclusions."
Kirby added that any notion that the United States was in any way supportive of the assassination or indirectly involved in it was "absolutely ridiculous." In a readout of Kerry's call with Cavusoglu Tuesday, Kirby said that the secretary "offered U.S. assistance to the investigation into the horrific murder of Russian Ambassador to Turkey Andrey Karlov."
An armed man identified as Mevlut Mert Altintas, 22, a former police officer, opened indiscriminate fire on Monday in an arts gallery in Ankara where Ambassador Karlov was opening an exhibition of Turkish photographic works featuring Russia. He received a gunshot wound, of which he died at hospital later. Turkish officials said the perpetrator was eventually eliminated on the spot.