Merkel now wants immigration less easy following Berlin's terrorist attack
Saturday, December 24th 2016 - 18:30 UTC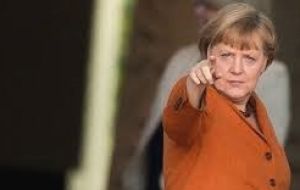 Chancellor Angela Merkel on Friday vowed to reinforce immigration controls and security natiowide following a terrorist attack at a Christmas market in Berlin that left 12 people dead, for which ISIS has claimed responsibility.
"I've told the interior and justice ministers to pool efforts with the federal chancellor's office, federal states and special services to analyze each aspect for this case and to present their ideas," Merkel said. "There where there is the need for changing legislation and security measures we will take the necessary steps," she added.
The suspect in the Berlin terrorist attack, Tunisia-born Anis Amri, has been in Germany since 2015. In July 2016 he was denied the refugee status. His deportation from Germany was due, but it had to be postponed as there was a lack of required documents. For about six months Amri was under surveillance, but the special services eventually failed to collect enough evidence to place him in custody. According to Die Welt, the German security police BND received two warnings from Morocco secret services - in September and October 2016 - that Amir was plotting a terrorist attack.
"The Amri affair has brought up a number of questions, not just those concerning the terrorist attack but also related to his presence in Germany since July 2015," Merkel acknowledged. "We shall now see to what extent government response should be changed. One can say that there is one concrete threat less, but the threat of terror is still there, as we all know." Amri was shot dead by an Italian rookie police officer in Milan on Friday.
Merkel also said that in Friday's telephone conversation with the president of Tunisia she declared the intention to speed up the deportation of migrants. "I told him that we are going to accelerate the process of deportation and to increase the number of deportees," Merkel said.
Despite Amri's death, investigations will continue, German Interior Minister Thomas De Maiziere said and security services are staying on the alert. A team of investigators will be sent to Milan shortly, he added.
Monday's attack seems to have dealt a deadly blow to Merkel's chances of clinching a fourth term as Germany's chancellor next year, as right-wing politicians opposed to her immigration policies, which have allowed nearly 1 million asylum seekers into the country, have called the 12 victims the "Merkel's dead."
"This was exactly the kind of terrible event that could seriously affect the German elections," said Michael Wohlgemuth, director of the Berlin office of the political think tank Open Europe. "Many people will make a connection between Merkel's refugee policy and the threat of terrorism."
In November, Merkel announced she would run for re-election and acknowledged, "We will face opposition from all sides."
On Wednesday, supporters of the far-right Alternative for Deutschland demonstrated outside of Merkel's office with signs saying, "Merkel must go" and, "Protect our borders."