President Temer rejects any idea of resigning, "I haven't given it a thought"
Saturday, December 24th 2016 - 15:41 UTC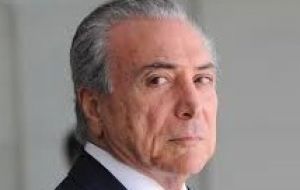 Brazilian President Michel Temer rejected any idea of resigning and anticipated he will file "one appeal after another" if the Superior Electoral Court (TSE) rules that the action calling for removal from office of the Dilma-Temer ticket moves forward.
"I haven't given it a thought," said Temer (referring to resigning as President) over breakfast with journalists at the Alvorada Palace. "If there is a decision [by the TSE to remove the ticket from office], there will be one appeal after another," he concluded.
The President underscored, however, that he will "obey" the final decision of the Judiciary, whatever it may be.
In the first half of next year, the TSE is scheduled to rule on a demand presented by the PSDB, currently one of the parties in Temer's coalition, calling for the removal from office of the PT-PMDB ticket for alleged abuse of political and economic power in the 2014 presidential elections.
Linked to illegal practices and receiving campaign funds by at least three of the Odebrecht witnesses who have made plea bargains to alleged illegal practices, Temer insisted that he has not "undermined" the investigation known as Operation Lava Jato (Car Wash), but that there can't be "an accusation coming out every week."
"I asked to speed things up," he emphasized.
Temer admitted that leaks of the content of testimony by Odebrecht witnesses "creates a climate of instability in the country" by striking at the heart of his government, citing his name and those of two of his chief assistants, Ministers Eliseu Padilha (Chief of Staff) and Moreira Franco (Partnerships and Investments).
The President did, however, leave open the possibility of undertaking a ministerial reform next year to contemplate allies unsatisfied by scant participation in his government.
Temer also said that he is taking advantage of his government's alleged lack of popular support to implement measures that are considered unpopular but, which in "are necessary for the country," such as Labor and Pension reforms.
"A government that is extraordinarily popular can't adopt unpopular measures," the President noted, concluding, "I'm taking advantage of this supposed unpopularity to implement unpopular measures."
The Temer administration is scheduled to end in December 2018, but there is a growing number of Brazilian want him to step down to allow voters to choose a new president.
Two surveys last week found Temer has little public approval: one poll showed 46% of Brazilians have a negative image of the president and another found 72% do not trust him.