UK and Brazil agree on a Business Dialogue to address commercial and political issues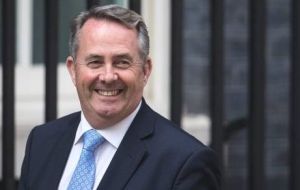 The United Kingdom and Brazil announced the creation of the Anglo-Brazilian Business Dialogue, which aims to establish a bilateral business dialogue to address commercial and political issues affecting UK and Brazilian companies in their respective markets and to refer them to the upper echelons of both governments. This was achieved during the recent visit to Brazil of Liam Fox, British Secretary of State for International Trade
The Dialogue was created during the latest JETCO (UK-Brazil Joint Economic and Trade Committee) meeting, which recently held its 9th edition in Brasília. Participating companies should make constructive recommendations to address trade issues between Brazil and the UK, in order to increase exports and investment between the two countries.
The British business group will be led by Sage's Global CEO, Stephen Kelly, while the Brazilian group will be led by Stefanini's Global CEO, Marco Stefanini. They will be in charge of mobilizing and motivating group members during both preparatory activities and the forum itself. They will also be responsible for identifying new potential members.
"This is a fantastic step forward for building a productive and positive business partnership for our two countries and it is an honor to chair this new group of distinguished British businesses . As the head of a multinational organization working with small businesses and entrepreneurs - of which the UK and Brazil have many - I am focused on ensuring we serve the interests of the whole business community and I look forward to this group delivering tangible boosts in trade and opportunity", said Stephen Kelly.
Marco Stefanini, Global CEO of Stefanini, said that this initiative is real progress and aims to nurture innovation, build new business models and, above all, drive the constructive debate about trade issues between Brazil and the UK.
"It is rewarding to be a part of this project and we hope it will be productive, increasing exports and investment between the two countries in addition to meeting the interests of the wider community, fostering economic and social development", said the executive.
The Anglo-Brazilian Business Dialogue will have a bilateral meeting every six months, chaired by the leaders of each group, in order to analyze progress made and to set out further recommendations for both governments. The first official meeting will take place during the 10th edition of JETCO, in the UK, in 2017.