Argentine bishops warn Macri, and the political leadership, about poverty, jobs and drugs
Monday, December 26th 2016 - 14:28 UTC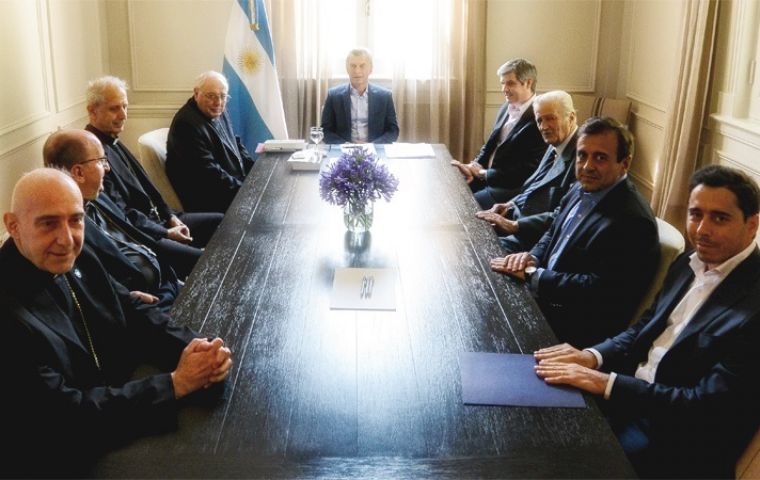 Argentine Catholic bishops visited president Mauricio Macri for the annual Christmas greeting but again expressed concern about poverty, the drugs trade and called on the political leadership of the country "to create the conditions for the common good."
According to the official report from the Executive, Macri thanked the Episcopal Conference, CEA, headed by Monsignor Jose Maria Arancedo for "their support in a transition year" which the president described as "difficult."
The statement refers to the Catholic Church's participation with its Pastoral Commission in the dialogue with social organized groups, which ended with the Social Emergency Declaration.
The president was accompanied during the meeting with close aides, including cabinet chief Marcos Peña, and CEA, besides Monsignor Arancedo with Buenos Aires archbishop Cardinal Mario Poli, Salta Archbishop Mario Cagnello and Monsignor Carlos Malfa from Chascomus.
During the fifty minutes round, bishops delivered Macri their Christmas message in which they make an urgent address "to all those who have some decision degree in the Argentine economy, to invest in creating jobs, decent and well paid jobs.
Bishops also warned about "mean intentions, financial speculation and subordination of the common good to electoral interests which do not respond to people's expectations and which so much harm cause to the country".
The document also underlined "the responsibility of the whole leadership in creating the conditions for the common good to endorse the integral inclusive development of all Argentines". Likewise it pointed out to issues which have become permanent for the church related to "a culture of discussion and dialogue, of work and solidarity, as well as concern with poverty and the drugs business".
Finally education and the situation of culture overall are paramount for the sustainable and standing development of Argentina.
But there was also a more tender side to the meeting when the bishops presented president Macri with the gift of a manger for his daughter Antonia.