Uruguayan government fights climate change: only official met forecasts are to be reported
Monday, December 26th 2016 - 04:05 UTC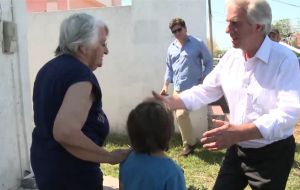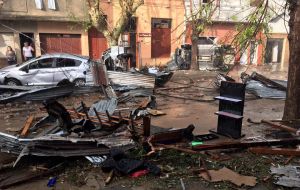 The Uruguayan government seems to have found the clue to climate change phenomena: it is looking into the legal aspects of limiting weather information, forecasts and warnings, to the official reports from the national Met Office, Inumet (veiled censorship?), which has on several occasions missed to anticipate some serious climate events.
The announcement was done by the Deputy Secretary of the Executive, Juan Andres Roballo, following the latest of events, a tornado or sudden storm of fifteen minutes, which ravaged a town, killing one person, blowing tens of roofs and trees and leaving thousands with no power.
President Tabare Vazquez is concerned that "in social media we have seen the downgrading and belittle of the official reports on forecasts from our met office, while giving preference or feeling more willing to listen to some private forecasts. This is very serious, and we are involved in a legal analysis of this because it has happened before and we are now determined to end with it", said Roballo who questioned the attitude of some media which downplay official info and give more reliability to other sources.
The controversy has erupted because in recent years Uruguay has suffered several meteorological events, not un common but of great intensity, and despite the Inumet office efforts, (and the removal of several head officials), it has missed in forecasting while Uruguayans and media have turned to the Brazilian Metsul service, (which covers the whole country including Uruguay and South Atlantic), a couple of local forecasters which have proved to be more on target, and younger generations mostly trust Surfguru or Windguru.
Roballo argued that the warnings system of Inumet was activated and anticipated an emergency between 18:00 and 21:00 Thursday. It later lowered the emergency level and early Friday a tornado or sudden storm of strong winds (up to 100kms) and hail the size of eggs, hit San Carlos, killing a woman crushed by a collapsed brick wall and devastating the town.
Allegedly Metsul and the private predictors never lifted the emergency warning and the Brazilian station insists the event had all the characteristics of a tornado, while Inumet insists on a sudden storm or a rapid descending storm. The fact is a person was killed, and San Carlos and nearby towns also suffered extensive damage and power cuts.
Even worse earlier this year there was a more devastating event which flattened half a town, (much still to be rebuilt, despite promised aid and with the local Red Cross branch under legal investigation for irregular delivery of supplies and donations), and a similar met jargon dispute emerged between Inumet and other predictors.
This time also president Vazquez was quick in reacting: the following day he visited San Carlos, promised aid, listened to plights and complaints and anticipated a quick reconstruction of the town. Quite a change from other met events when he arrived two or three days later or simply sent a representative to listen to the victims.
In the meantime it will be interesting to see how the Vazquez administration manages, legally, to limit met reports releases to those of the illuminated Inumet. He might even find the way to deal with climate change and subsidiary phenomena.
Inumet under the Vazquez and Jose Mujica administration has a long performance not only of misreporting forecasts, but also loss of professionalism to political appointments, lack of equipment, claims of underfunding and of roughing lady journalists for making too many questions.