Petrobras plans to claim part of Odebrecht's payments deal in US and Switzerland
Tuesday, December 27th 2016 - 09:17 UTC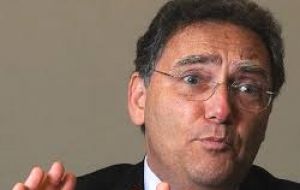 Brazilian oil company Petrobras plans to request part of the record anticorruption settlement that construction company Odebrecht SA signed earlier this week with Brazilian, U.S. and Swiss authorities. Petrobras has said it was the victim of the vast bid-rigging and kickbacks scheme that Odebrecht admitted to helping run.
Investigators say the graft ring, which included a group of builders, cost Brazilian taxpayers and Petrobras shareholders an estimated US$13 billion.
After months of negotiations, Odebrecht agreed Wednesday to pay between US$2.6 billion and US$4.5 billion to Brazilian, U.S. and Swiss authorities over 23 years, according to the U.S. Department of Justice, which had brought suit against the firm under the Foreign Corrupt Practices Act.
"We're looking for ways to reimburse shareholders and the [Brazilian] government," Petrobras's director of governance, risk management and compliance, João Elek, told The Wall Street Journal. "Petrobras will make an effort to recover the part that's fair."
In addition to Odebrecht's fine, the largest anticorruption settlement in history, the company's petrochemicals subsidiary, Brasken agreed to pay US$ 957 million
The record settlement deal has shaken Latin America, where Odebrecht admitted to paying around US$800 million in bribes since 2001 in 10 countries in the region, as well as in Angola and Mozambique.
Petrobras praised the deal as an "important step," but Mr. Elek said the construction company won't be allowed to do business with Petrobras until further conditions have been met.
Odebrecht would have to prove it has introduced measures to guarantee it won't engage in such practices in the future before Petrobras allows the construction company to bid again for contracts at the state-controlled oil company, Mr. Elek said without providing further details.
Brazil's prosecutors and police have estimated Petrobras lost a total of 42 billion reais (US$12.8 billion) in the scheme that cost the once largest corportation and pride of the country. The Rio based company lost its investment-grade credit rating and has become the world's most heavily indebted listed energy company.