Falklands a century ago, record prices for exports: wool and whale oil
Wednesday, December 28th 2016 - 04:32 UTC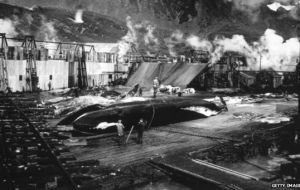 The Penguin News with background information from the Jane Cameron National Archives has published an interesting article about the Falkland Islands, economy and trade, a century ago in the midst of the First Great War. Wool from a flock of almost 700.000, and whale oil were the Islands main exports in 1916, while coal with soaring prices the main import. A century ago there were 61 births and 17 marriages.
The value of imports was £1,256,906 (up from £591,071 last year). The increase being almost entirely due to the higher cost of coal. Exports were valued at £1,870,903 (down from £2,053,719 last year) The whaling industry continued its efficient hunting and processing of the whales, although none were caught in Falklands' waters this year. The number of whales caught around South Georgia and Antarctica was down by more than 4,000, about one third, but the price of oil climbed so much that the total value of those whales was greater than the previous year's catch. The general health of the sheep continues to be very good, the flocks practically free from every infectious and contagious disease.
The total number of sheep in the Colony was 696,975, as compared to 689,904 in 1916. Over 42,000 sheep were canned, as compared with 37,000 last year.
The highest recorded price received for wool was 2s. 7½ d. a lb (Roughly £12.50 per kg today.). This is the highest price ever known to have been received for Falkland Islands wool and is over one shilling in advance of the highest price in 1916.
Only 12 sailing ships and 59 steam ships entered the Colony, a great reduction on 1916.
Public Works - Owing to the War no public works of any importance were undertaken during the year.
Births - 61, deaths - 16, marriages -17. The general health of the colony was excellent: better than during the two previous years.
The mail contract with the Pacific Steam Navigation Company was terminated in September. The mail service received by the Colony was necessarily extremely irregular and very considerable periods often elapsed between the arrivals of vessels in the Colony. (PN)