False alarm leads to evacuation of NY's Trump Tower - child left a bag of toys behind
Wednesday, December 28th 2016 - 06:28 UTC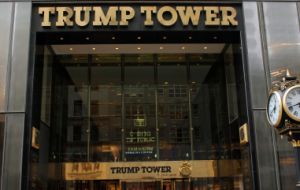 The notorious Trump Tower building in New York was evacuated at around 4.30 pm Tuesday due to fears caused by a strange package which turned out to be a backpack full of toys a little kid left behind, authorities said.
Officers in the lobby and on the pavement urged people to leave the tower in Midtown Manhattan and move away from the building once outside. Panicked people were seen running out of the 58-storey skyscraper - where US president-elect Donald Trump lives in a palatial penthouse - while being guided by security and NYPD officers.
The NYPD and the FDNY took no chances and a bomb sniffing dog was brought in and sat on the package, suggesting it was an explosive. Further investigation revealed there was no threat. "All clear at Trump Tower following the earlier suspicious package in the lobby," an NYPD spokesman announced. Police allowed people to return to the lobby around 45 minutes later after determining the bag did not pose a threat.
Surveillance video showed that the unidentified boy, who was with his family, had left the yellow backpack behind in the building on Fifth Avenue in Midtown. The tower on Fifth Avenue in Midtown Manhattan was already under heavy security after the Republican business mogul won November's election over Democrat Hillary Clinton.It is also home to the Trump Organization's headquarters, high-end shops such as Tiffany and Gucci, and other business tenants.
Trump was in his Mar-a-Lago resort in Florida on Tuesday. He will be sworn in as President of the United States next January 20.