Almost nothing to be named after Fidel to avoid cult of personality in Cuba
Thursday, December 29th 2016 - 05:44 UTC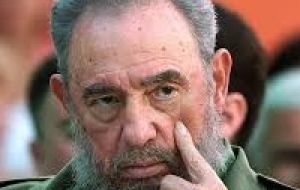 Cuban lawmakers Tuesday passed a bill whereby nothing shall bear the name of the late revolutionary leader Fidel Castro, who passed away November 25 last. No monuments or buildings shall be erected in his honour either.
Incumbent Cuban President Raul Castro, 85, said that the bill merely respects the will of his deceased older brother, who shall remain nonetheless an omnipresent figure after taking power in 1959,
Fidel was always against almost anything named after him. However, he did make an exception that would allow artists to use his name, people to cite it at political rallies and workplaces, and for a research institute on his role in history to bear his name. He also decreed that his name and image not be used for commercial or advertising purposes.
It is yet un clear what penalties would be imposed on those breaking the anti cult of personality law.