Obama's gov't expels 35 Russian diplomats - Moscow to take reciprocal steps
Thursday, December 29th 2016 - 22:51 UTC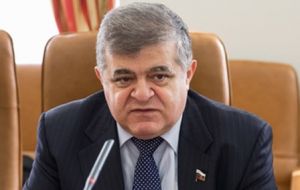 The government of the United States Thursday expelled 35 Russian diplomats from Washington and San Francisco, US Department of State said in an official statement. Meanwhile, lawmaker Vladimir Dzhabarov, who is Deputy Chairman of the Federation Council's (Parliamantary Upper House) warned that "reciprocal steps will be made with regards to the U.S. embassy in Moscow and, quite possibly, the consulates will be cut down in size as well." In any case, it is believed that this decision "will destroy diplomatic relations" between the two countries, as one Kremlin source put it.
It was also announced on Thursday that two Russian compounds in Maryland and New York, used by Russian personnel for intelligence-related activities, will be closed and access to the compounds will be denied to all Russian diplomats as of Friday noon.
The 35 diplomats are said to be in fact intelligence operatives who have been declared "persona non grata" and were given 72 hours to leave the country. Washington accuses the Russian military's Main Intelligence Directorate (GRU) of hacking information with the intent to interfere with the US election - along with help from the Federal Security Service (FSB).
US President Barack Obama said he implemented the sanctions in response to the Russian government's "aggressive harassment of US officials and cyber operations" aimed at last month's US election. "All Americans should be alarmed by Russia's actions," Obama said in a statement and added that the actions were "not the sum total of our response to Russia's aggressive activities."
"We will continue to take a variety of actions at a time and place of our choosing, some of which will not be publicized," he said.
Obama's administration is expected in the coming days to provide a report to Congress regarding "Russia's efforts to interfere" in last month's vote, as well as other "malicious cyber activity" related to previous elections.
Three US intelligence agencies concluded earlier this month that Russia was behind hacks into the Democratic Party and leaked documents ahead of the US presidential election on November 8.
The agencies also agreed that Russia sought to intervene to help President-elect Donald Trump and other Republican candidates into office. Both Russia and Trump have denied and dismissed the findings.
With Trump due to take office in the White House on January 20, Obama's move puts the president-elect in the position of having to decide whether to retract the measures once sworn in.